14 Best Umbrellas in India for 2020 | Stylish & Easy to Carry
A good umbrella is one of the most essential items that you should always have in your bag. No matter what the weather is like outside, an umbrella will always come in handy to protect you from strong sun rays or unexpected rain. In this buying guide, we are going to help you find the best umbrella in India that will keep you dry during the rainy season and protected from the sun during the summer days.
After all, a good umbrella should be sturdy enough to handle high winds and heavy rain, as well as protect you from unhealthy UV rays. Besides the best umbrella reviews, we have put together a quick and easy buying guide to help you make your decision. While there are thousands of umbrellas available on the market, not all of them are worth the money. What you should be looking for are sturdy and long-lasting umbrellas with easy open and close mechanism and UV protection.
If you consider all the best features before making a purchase, you can get yourself a 2-in-1 umbrella that can be used both during rainy and summer times. Stick around to learn more about the best umbrella brands in India, as well as the best umbrellas for kids!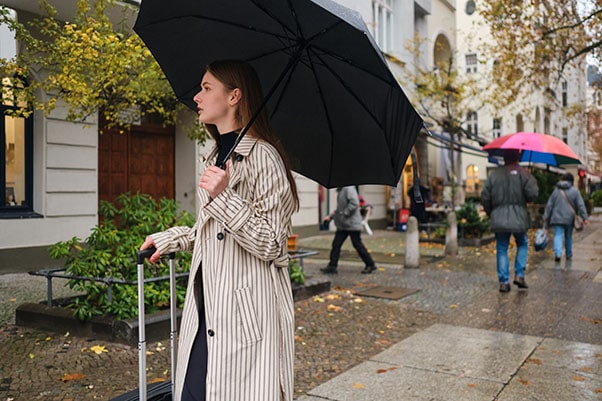 Checkout the List of Best Umbrellas in India
1. AmazonBasics Umbrella (Auto-Open & Close Function) – Black
We will start off with a classic 100% polyester black umbrella by AmazonBasics. This umbrella has a modern automatic mechanism for opening and closing the canopy with a click of a button. Even though it is compact when closed, the canopy expands into a full size umbrella once you open it.
Moreover, the soft grip handle makes it more comfortable to hold the umbrella during your walk. When fully closed, the umbrella is 11 inches long so it can fit in most handbags. The wrist strap also comes in handy if you want to attach the umbrella to a backpack. The only downside is that the steel construction of this umbrella is not the most suitable option for heavy wind.
Pros:
100% polyester
Full size travel umbrella
Wrist strap and storage sleeve included
Soft grip handle
Double steel construction
Elegant and simple design
Cons:
May Not be stable in heavy wind
2. Balios Real Wood Handle Umbrella
Next up is the Balios umbrella with a handmade real wood handle and windproof fiberglass. As one of the classiest and most elegant umbrellas on our list, this product is well worth the money. It features an automatic opening and closing mechanism along with a high grade steel shaft.
The ergonomic design makes carrying the umbrella easy and comfortable even after hours. The handmade handle allows easy grip, whereas the vented double canopy provides full protection from the rain. Overall, the Balios real wood umbrella is a lightweight and high quality solution for rainy days that won't let you down even in windy weather.
Pros:
Real wood handle
Handmade
Made of windproof fiberglass
Automatic opening and closing mechanism
Elegant design
High quality steel shaft
Ergonomic design with finger notches
Cons:
3. AmazonBasics Umbrella with Wind Vent (Auto-Open & Close Function) – Navy Blue
This is another high quality umbrella by AmazonBasics. Unlike their first umbrella on our list, this one is capable of handling windy weather and harsh conditions thanks to its convenient wind vent. It also features the automatic opening and closing mechanism and a stylish navy blue canopy.
However, keep in mind that this umbrella features a classic design and gets its job done well. It may not be the best option if you are looking for style and uniqueness in the structure. With that said, the umbrella does feature a comfortable handle for a soft grip, even though the handle might be considered too small for adults.
Pros:
The umbrella has a good wind vent
Automatic opening and closing mechanism
Wrist strap and storage sleeve included
Durable steel shaft with polyester
Soft grip for comfort
Classic navy blue design
Cons:
4. Esprit Unisex Polyester Automatic Easy Matic Umbrella with UV Coating
Esprit is known for high quality accessories, including umbrellas with UV protection and modern designs. This Esprit umbrella can be used both for rain and sunshine protection thanks to the UV coating and strong polyester fabric. As a travel size umbrella, it is compact and lightweight enough to fit any bag or storage compartment.
Much like any high quality umbrella, this one also features the automatic opening and closing mechanism. It comes with a wrist strap and a high quality steel frame that won't let you down, even in harsher weather. The only downside is that this umbrella is on the pricier side of the budget spectrum, but its quality and brand behind the product are worth the money.
Pros:
UV coating
One of the best umbrella brands on the market
High quality polyester fiber
Travel size
Compact and lightweight
Strong steel frame
Wrist strap included
Cons:
5. Lewis N. Clark Compact & Lightweight Travel Umbrella
Next up is another popular accessory brand in India and around the world known as Lewis N. Clark. Their compact and lightweight umbrellas open and close automatically with a click of a button. The 38-inch canopy is big enough to protect you during heavier rain. The sturdy construction and the steel shaft won't break down in the high wind.
Moreover, the umbrella comes with a slim storage sleeve with an attached carry loop. We must also point out that the Lewis N. Clark umbrella is rust resistant, although you should still let it dry out after each use. Overall, it is a great umbrella that will get the job done as it is expected.
Pros:
Compact and lightweight
38 inch canopy
Mold and rust resistant
Automatic opening and closing mechanism
Storage sleeve with a carry loop
Cons:
Although the overall quality is ok, the handle is little flimsy
6. Kraptick Ultra Lights and Small Capsule Umbrella with Cute water proof Capsule Case
Next up is the Kraptic Ultra Light and Small capsule umbrella. As the name suggests, this small umbrella is packed in a palm-sized capsule case. The compact size makes it one of the best umbrellas in India for traveling. Besides its unique design, the umbrella offers high tech UV coating and a fast opening and closing mechanism.
However, keep in mind that this is a very compact capsule umbrella, meaning it is small and fragile and it likely won't survive long in harsh weather conditions. On the other hand, if you are expecting light rain, it is always good to have an umbrella nearby, even if it is a capsule-sized one.
Pros:
Small and compact
Comes with a capsule case
Unique design
High tech UV coating
Fast opening mechanism
A good option for travelers
Cons:
Small and fragile – cannot handle heavier rain and wind
7. John's Umbrella 3 Fold 545 mm Manual Open Silver Coated Umbrella (Maroon)
John's 3 fold umbrella has a fine silver coating with an elegant design and durable canopy fabric. Coming from one of the higher brands in India, this umbrella showcases the true image of class and luxury. However, it is important to address that it only has a manual opening and closing mechanism, which can be frustrating in heavy rain situations.
This umbrella features stainless steel tubes and Zinc-plated ribs that prevent rusting and mold build ups. Moreover, the canopy has a UV protective layer so you can use the umbrella both during rainy and sunny days. The canopy of this umbrella is so big that it can easily accommodate two people at once. The only downside besides the manual mechanism is the heavy weight of the umbrella.
Pros:
Silver coated stainless steel tubes
High quality brand name
UV protective coating
Suitable for heavy wind
Enough room for two people
Cons:
Not lightweight
Only supports manual opening and closing
8. Totes Clear Bubble Umbrella
Next up is the Totes Clear bubble umbrella with a rather interesting design. This umbrella features a unique transparent canopy that allows you to see through the fabric and thus have a better sense of orientation while still being protected from the rain. The Totes Clear bubble umbrella is available in multiple different patterns.
While a transparent umbrella can suit any fashion style, it also comes with a comfortable acrylic handle and an extended canopy for extra protection. This particular umbrella has a deluxe matte silver finish with a high quality powder coating on the inside. However, despite the anti-rust coating, you should still leave the umbrella to dry out after each use.
Pros:
Unique transparent design
Extended canopy
Fine powder coating
Silver finish
Comfy acrylic handle
Cons:
9. Sun Umbrella Classic Folding Automatic Open Uv Protective Umbrella
Next up is the Sun Umbrella featuring a classic design and an automatic folding mechanism. Like most umbrellas on our list, this one also features protective UV coating on top of a high quality steel frame with heavy duty ribs. This type of strong construction is durable enough to withstand heavy rain and harsh weather conditions.
Besides strength and durability, this umbrella has many other good features to offer. For instance, it has a black matte finish handle that is comfortable to hold even for longer periods of time. On top of that, the umbrella comes with a transparent storage sleeve and an attached wrist strap.
Pros:
Automatic folding umbrella
UV protective canopy
Heavy duty steel frame
Black matte finish handle
Transparent storage sleeve
Wrist strap included
Long-lasting fabric
Cons:
This umbrella is heavier than average, which can make it difficult to handle
10. Popy Five fold Black Umbrella with Superior Quality
Next up is the Popy five fold black umbrella featuring a steel tube with a silver coated nylon cloth. This could be one of the best umbrellas in India because it is an ideal choice for travelers. It measures only 16 centimeters in size when folded, meaning it can fit in the palm of your hand. You can carry such a small umbrella in any bag or storage compartment.
Moreover, the handle of this umbrella features a flat design, so it occupies less space when stored away. However, do not let the small measurements fool you because this umbrella expands to full size coverage once open. Keep in mind that it is not designed for heavier winds and rainstorms.
Pros:
Silver coated nylon cloth
Flat handle design
Opens to a full-size umbrella
Compact and lightweight
Comes with a tangle-free wrist strap
Cons:
Not suitable for heavy rain
11. La Perfait Luxe Umbrella (685mm) Black Golf Big Size UV Protective
Next up is the luxurious La Perfait black umbrella with a full size canopy that can easily accommodate two people. This is a non-foldable umbrella, which means it is not the best option for traveling or light packing. However, if you need a large umbrella that is both sturdy and light in weight, this is a great one to consider.
Moreover, the La Perfait luxurious umbrella features a quick and smooth opening mechanism with a durable and long-lasting shaft. The polyester canopy provides full protection from the rain. The main downside is the wooden handle that has a very uncomfortable design. Besides, since this is a non-foldable umbrella, it might be difficult to carry it around all the time.
Pros:
Large polyester canopy
Accommodates two people
Sturdy in structure
Lightweight
Smooth opening mechanism
Cons:
12. Fendo Navy Blue Folding Umbrella
The Fendo umbrellas are as classic as an umbrella can get. This umbrella has a button for opening the canopy, although it can only be closed manually. The canopy is made of 100% waterproof polyester. However, since it is not completely rust proof, make sure to dry the umbrella thoroughly before closing it after use.
The good thing is that this travel-sized umbrella has a full-size canopy, so there is plenty of coverage room for one person. On top of that, the umbrella provides UV protection for sunny days. However, its structure is not strong enough to withstand heavy rain.
Pros:
100% durable polyester
Classic design
Semi-automatic opening mechanism
Compact size
UV protection
Cons:
Not suitable for heavy rain and windy weather
13. John's Umbrella 610 mm Wooden Straight Fold Umbrella
This is another John's Umbrella with a wooden handle featuring the old school straight fold design. White umbrellas such as this one can suit any outfit choice, which makes them a classy and elegant addition to your style. Its canopy is made of Taffeta fabric with a water repelling coating that makes the raindrops bounce off.
Besides the waterproof coating, this umbrella is also equipped with an internal silver coating that keeps it safe from rusting. Overall, this a stable and durable choice, although it is not the most compact option on the list. After all, this umbrella does not fold very quickly, and it can be difficult to carry around due to its size.
Pros:
Wooden design
Automatic opening mechanism
Taffeta fabric
Stable and durable
Waterproof coating
Internal silver coating
Cons:
The umbrella is not compact nor easily portable
14. Citizen Black Umbrella
Last but not least, the final choice on our list is the Citizen Black Umbrela with a simple unisex design. This compact and foldable umbrella does not have any special features to offer. However, it is simple, lightweight, and it gets the job done, which is often everything you will need.
The polyester fabric is quick to dry after use. Overall, this umbrella is very durable and simple to use. The only downside is that its built quality. However, considering the affordable price, the Citizen Black Umbrella is a good option to consider.
Pros:
Durable
Classic unisex design
Lightweight
Quick to dry after use
Compact and foldable
Good price
Cons:
Now! its time to select the Umbrella for your Kids
Full size umbrellas are most likely going to be too big and too heavy for kids to carry around. Luckily, there are plenty of umbrellas on the market designed specifically for kids. Your child can start carrying their own umbrella from a very young age. That is why we have also included one umbrella for two year old kids to diversify the offer. Take a look at some of the best umbrellas for kids in 2020!
1. Watermark Multicolour Animal Design Small Umbrella for Kids 2.5 Years
This Watermark multi-color umbrella is specifically designed for small children of two to three years of age. It is available in several different patterns, including various animal prints and designs that look appealing to children.
This 100% polyester umbrella will look attractive to your child so that it can be used as a toy as well. However, it primarily serves as protection from rain thanks to the waterproof canopy. With this umbrella, your kids will quickly learn how to stay dry even during the rainiest days.
Pros:
100% polyester
Waterproof
Multiple print design options
Fun and attractive
Cons:
Only suitable for kids below 2.5 years
2. Leysin New Design Umbrella
Next up is the Leysin kids umbrella with superhero designs and patterns. It features a lightweight aluminum shaft that is durable enough to withstand harsh weather, yet light enough so a child can carry it easily. This umbrella is designed both for rainy and sunny days, as it does provide UV protection under sun rays.
Moreover, the acrylic matte handle is comfortable enough to carry around, whereas the canopy provides maximum coverage to keep your child dry. This umbrella is very easy to use, and it features some of the most attractive patterns for kids. Also it comes with a little whistle.
Pros:
Superhero designs
Suitable for rain and sun
Lightweight aluminum shaft included
UV protection
Maximum coverage
Nicely designed handle
Cons:
3. My Party Suppliers Unicorn Umbrella
The unicorn umbrella from the Party Suppliers is one of the most popular kids umbrellas with a unique design. This one also comes with a whistle for your kids to play or use in case of emergencies. This kid-sized umbrella is perfect for heavier rain too, thanks to its sturdy structure with eight ribs.
Besides being highly windproof, this umbrella is also very easy to open and close. Since it is a lightweight umbrella, your child will be able to carry it on their own. Overall, if your kids love unicorns, this might as well be the perfect umbrella for them!
Pros:
Unicorn design
Easy to open and close
Comes with a whistle
Lightweight
Easy to carry
Sturdy eight rib design
Cons:
4. Epic Printed Frill Bordered Umbrella
Last but not least, the Epic Printed kids' umbrella is a three folding umbrella with more of an elegant design. Unlike the ones with superheroes and unicorns, this umbrellas have classier prints with more elegant colors. Each canopy is made of durable fabric that sits on a lightweight aluminum shaft paired with a sturdy handle.
The umbrella can easily be folded into a small and compact carry on accessory. However, once it is opened, it stretches into a full size umbrella to provide enough coverage and UV protection. Overall, this is one of the best kids umbrellas on the market at a very favorable price.
Pros:
Three folding design
UV protection
Durable fabric
Sturdy handle
Small and compact
Cons:
Best Umbrella Brands in India
In this section, we are going to focus on the best umbrella brands in India. As you already know, the name behind the product can play a crucial role in the buyers decision making process. After all, if you want good quality, you are going to look for the well-known brands instead of the ones you have never heard about. The list below will help you familiarize yourself with some of the most popular umbrella brands on the market.
AmazonBasics
AmazonBasics is an Amazon's brand that provides a variety of gadgets, appliances, and accessories, from kitchen items and tech products to small accessories such as umbrellas. AmazonBasics provides relatively affordable products of decent and acceptable quality.
Esprit
Esprit is a well-known international fashion brand and one of the most popular brands in the Indian market. Besides clothing and fashion accessories, Esprit provides an extensive line of umbrellas. Each Esprit umbrella is crafted with care to provide the highest quality possible.
Lewis N Clark
Lewis N Clark is a popular brand inspired by American expedition leaders. To fit the theme of their name, the brand offers a variety of products for travelers and outdoor enthusiasts, from all sorts of bags and luggage solutions to products that help keep items organized and secured during travel. Their product line also includes a variety of high quality umbrellas with automatic mechanisms and durable shafts.
John's
John's umbrellas are known for classic and old-school designs, even though the brand does offer more compact and modern solutions. John's umbrellas are simple and get the job done at an affordable price.
Sun Brand
Sun Umbrellas has been a leader in the umbrella market since the 1880s when they started to provide a variety of well-crafted and high quality umbrellas. This brand takes pride in providing quality in alignment with the tradition and old school design. Nowadays, Sun Umbrellas is one of the most popular Indian umbrella manufacturers.
Balios
Balios is another popular Indian umbrella manufacturer that combines contemporary technology with simple and traditional designs. Their umbrellas portray the finest craftsmanship and build quality, which sets them apart from other products on the market.
Fendo
Fendo is an Indian manufacturer of high quality umbrellas with simple and mostly unisex designs. Their wide range of umbrellas offers a variety of choices, from classic black designs to more sophisticated shapes and patterns. Overall, Fendo is known for the diversity in its offer, which makes them one of the most popular Indian umbrella manufacturers.
Citizen
Last but not least, if you are looking for an affordable umbrellas, consider taking a look at those produced by Citizen. This Indian brand offers a variety of umbrellas with different styles and designs. Each of their umbrellas features a durable shaft and a sturdy handle, along with long lasting canopies made of UV protective fabric.
A Quick and Easy Buying Guide to Select the Best Umbrella
Here are some of the most important factors to keep in mind before you make a purchase:
Size of umbrella
The size of the umbrella is the most important feature to look into. The last thing you want is an umbrella that's too small and doesn't cover your backpack or the jacket you are wearing. On the other hand, you don't want a bulky umbrella either because these are difficult to carry around. Make sure the size of the umbrella fits you before you look into the other features.
Model- Standing, Folding, Capsule
The three main umbrella models include the standing, folding, and capsule umbrella. The standing umbrella is the largest model that provides the most coverage but is also the most difficult one to handle.
A folding umbrella, on the other hand, offers good coverage and a compact size that can fit into bags and backpacks. Capsule umbrellas are the ultimate travel umbrellas with a unique packaging. They come in a small capsule and can fit in just about any back, although they are not as durable as folding and standing umbrellas.
Umbrellas for men, women, and kids
While most umbrellas feature a unisex design in terms of structure and shape, some have different patterns and colors. Darker colors such as black and navy blue can be found on umbrellas for men, whereas umbrellas for women have lighter colors such as red and pink. Umbrellas for kids, on the other hand, are much smaller and feature design patterns for children. Most umbrellas, however, are unisex and can be used by any gender.
Design
Umbrellas come in different shapes and designs. The most common design is the classic single color canopy made of polyester fiber. However, if you are looking for something more unique, you can find various umbrella designs such as see-through and transparent canopies, artistic patterns, color schemes, and more. The design of umbrella is a personal preference, and it does not have much of an impact on overall quality of product.
Rust proof support blades
A good umbrella should have rust-proof support blades and a durable steel frame. It is easy for an umbrella to get rusty over time, especially if you do not let it dry open after each use. Even rust-proof umbrellas should be left to dry to expand their lifespan and prevent unwanted rust and mold from building up. Once an umbrella gets rusty, it will be more difficult to open and more likely to break under heavy wind.
Handle model and design
The handle is an important part of the umbrella that dictates the quality of use. Look for umbrellas with comfortable handles and ergonomic designs. If you are in for a long walk in the rain, carrying the umbrella might make your hand feel stiff and uncomfortable.
Sturdy and well-designed handles will allow you to hold the umbrella securely without getting pain and fatigue in your hand. Keep in mind that most umbrellas come with flat or curved handle designs. The ones with ergonomically designed shapes are the best fit if you're looking for comfort.
Automatic or manual
There is a big difference when it comes to automatic and manual umbrellas. Automatic umbrellas open and close faster, which makes them more convenient to use in general. Manual umbrellas, on the other hand, might take longer to open and close down. However, this factor doesn't play that big of a role when it comes to actual protection from the rain.
Height adjustment
It is important to consider the height of the umbrella once it is open because if the frame is too short, you might have trouble carrying it for longer periods of time. Most unisex umbrellas are about the same height. However, if you are concerned about this issue, check out the product details or contact the seller to get more information.
Quality of umbrella material
When it comes to the material, the best umbrellas in India are made of high quality water resistant polyester fabric paired with durable steel. The steel frame should have an anti-rust powder coating to prevent the umbrella from rusting while wet. The polyester fabric is stitched tightly so it can withstand high winds and harsh conditions. Make sure the entire structure is sturdy and durable if you are looking for a long-lasting product.
UV protective coating
While it is not mandatory for an umbrella to have a UV protective coating, it is a good feature to add to the list. Umbrellas with UV protection can be used during summer to protect you from the strong sunshine and prevent burns. Long exposure to sun rays can cause negative consequences on the skin, which is why it is recommended to stay in the shade. If there is no shade to protect you, a UV protective umbrella will certainly come in handy.
Easy to carry
Last but not least, check the weight and the size of the umbrella once closed. The last thing you want is a bulky umbrella that cannot fit in any bag or backpack. Compact travel umbrellas are the easiest to carry around when not in use. A good umbrella should also have a storage sleeve with a wrist strap so you can attach it to a bag or a garment.
Summary
This marks the end of our extensive guide on the best umbrellas in India. While choosing an umbrella is usually a quick and mindless task, you should stop to think about how often you use this accessory. An umbrella is more than just an addition to your outfit. It is one of the most essential items that should be found in your bag for most of the year.
Therefore, if you are going to be carrying an umbrella with you nearly every day, you might as well choose a good one. The market is filled with thousands of umbrellas that all get the same job done. However, what makes them different are the small things such as opening mechanisms, canopy material, or handle designs.
If you want to get the best value for your money, consider investing a bit more time into choosing the right umbrella for your needs. Our guide will certainly help you find the right product, as well as learn more about the different features you should be paying attention.