The 15 Essential Home Appliances to Make an Ideal Living Place
Are you just moving in or renovating your home? Maybe you just want to add something to your household that will be functional and useful to have around. Either way, there are several essential home appliances and items that every household should have, no matter what. These include the obvious – refrigerators, washing machines, and TVs, as well as the less obvious items such as water purifiers, inverters, and air purifiers. Here is a list of the most essential home appliances you should have around.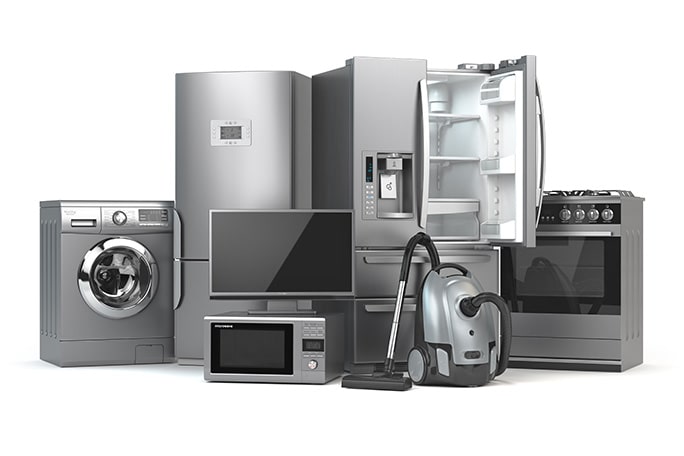 List of Most Essential Home Appliances
1. Refrigerator
We will start off with the most common appliances every household needs to have – a refrigerator. There are plenty of types of refrigerators available on the market, including a single door, double door, and even smart fridges.
If you don't need features such as remote control of ice machines or digital lists of contents inside the fridge, then a regular refrigerator will get the job done just well.
2. Washing Machine
A washing machine is one of the most essential items in the household. It is used on a daily basis or a couple of times per week, which means it must be reliable and long-lasting.
You should choose between a top-loading or a front loading washing machine, as both types have their pros and cons. The most important thing to consider is whether the machine offers enough capacity for your weekly loads.
3. TV
When it comes to running a happy and fulfilling household, it is not all about the chores. Entertainment plays an important role in the quality of life, which is why your home needs a good TV where you can catch up with your favorite shows and movies at the end of the day.
You can choose between a smart TV or Android ones for the best visual experience you can go for 4K TV.
4. Cooktop ( Gas stove or Induction)
One of the important essential home appliances is the cooktop, where you will prepare food for your family. while conventional gas stoves are quite popular in India, inductions are also becoming popular these days.
It can be challenging to decide between these two, since you have to consider multiple factors, including energy efficiency, size, type of compatible cookware, and heat distribution.
Look into both gas stoves and induction cooktops and compare your options before making the final purchase. Keep in mind that induction cooktops are becoming more popular because they are safer and more energy-efficient.
5. AC or Cooler
There is nothing better than having a cool breeze, especially during hot sunny days. That is why you need a cooler or an AC in your home to keep the room temperatures at a pleasant level.
There are tons of different AC models and cooler types that will make you question what kind of appliance you really need. The best advice we can give you in this direction is to base your purchase on the size of the room, as you do not want an AC that is too small or too big for your space.
6. Electric Rice Cooker
Rice is one of the most adored staple meals around the country. With that in mind, you will probably be preparing a lot of rice in your daily life. The best way to cook healthy and delicious rice without spending too much time or energy around it is to use a rice cooker.
This is one of the best essential home appliances you can invest in since it will save your time and effort in the kitchen. Most importantly, the rice will be cooked to perfection by a rice cooker with almost no effort.
7. Mixer Grinder
A mixer grinder will come in handy in the kitchen when you want to prepare chutneys or masalas or even a glass of freshly prepared juice. A high-quality mixer grinder will help you get your work done quickly and save time in the kitchen. Since these appliances can be used for chopping up or mixing ingredients, they will also serve a great purpose in cooking.
8. Geyser
Basing on your usage, you might need two geysers in your household – one for the kitchen and another one for the bathroom.
A kitchen should be equipped with a tankless heater that offers instant hot water, whereas the bathroom should have a decently sized storage geyser that will provide plenty of hot water for long showers and baths.
However, the instant geyser's also do well for your bathing requirements. Make sure to choose the size of the geyser that is appropriate for the number of members in your household.
9. Water Purifier
If you care about the health and wellbeing of your family and yourself, you should invest in a high-quality water purifier. Whether you choose RO or UV water purifiers, these devices will ensure that you are drinking safe and clean water.
This is especially important for households located in areas where the water is harder than it should be, based on the national standard. Make sure to get a TDS meter to check water quality levels before you choose which water purifier is the best option for your home.
10. Wet Grinder
One cannot prepare good food without a wet grinder. As one of the essential home appliances in Indian cuisine, a wet grinder is used to grind food grains to prepare idly or dosa batters. Ground food grains can be used in a variety of meals, so a good grinder will come in handy on a daily basis.
11. Iron
After washing and drying your clothes, you will have to iron them in order to prepare them for use. A high-quality iron should be energy efficient and reliable enough to be used every day.
Since ironing clothes is one of the most common household tasks, you will need a good iron that can handle a large workload. You can choose among a dry iron or a steam iron for your needs. Also, not to forget the garment steamer that works well with a little effort.
12. Inverter
A power inverter is another essential appliance you should have at home in case you need to adjust the electricity for different devices. This appliance plays a major role during the power cuts. Most simply put, an inverter changes direct current (DC) to alternating current (AC), whereas some of the more advanced units can change input and output voltage and frequency.
13. Kitchen Chimney
Due to the increased apartment culture as well as housing in enclosed areas, Kitchen chimneys became an essential part of the house, mainly due to the poor air circulation. Kitchen chimneys will allow you to filter out and remove the unwanted kitchen air mainly created due to the oil fumes or even smell while frying things and also to leave a fresh environment for working.
14. Vacuum Cleaner
Cleaning the floors is a big part of maintaining a household. It is also one of the most frequently done tasks, which is why you need a powerful and durable vacuum cleaner ready to do the job.
You can choose between a variety of vacuum cleaners, like the dry or wet ones, including the ones with bags and water compartments, etc. Whichever one you choose, make sure to look at the suction power before making the purchase.
15. Dishwasher
Washing dishes by hand can be a tiring task. Luckily, you can let the dishwasher handle all the heavy work while you sit back and relax. A good dishwasher should have the capacity of at least 12 sets, as well as at least five different wash programs. With these options readily available in your kitchen, you will save both time and water on daily dishwashing activities.
Other Home Appliances that you may Like (Optional)
16. Video Door Phone or Security Camera
Security is an important factor to consider when setting up your household or renovating a home. A proper security system should have more than just an alarm since alarms are not enough when dealing with the consequences of a security incident. You should have a video door phone or a security camera set up to make sure all activities around your home are recorded.
17. Oven
While some people opt for ovens that come with a cooktop, many households prefer separate ovens. Either way, an oven is one of the most essential home appliances because it is needed to cook a variety of meals. Make sure the oven you choose for your home is durable and provides plenty of heating options.
18. Air Purifier
We have already mentioned a water purifier on this home appliances list, but we must not forget about air purifiers as well. Breathing in unpurified air can lead to negative health consequences.
To avoid having to deal with health issues in the future, make sure your family is breathing in the fresh air at home by investing in a reliable air purifier. Just like with the AC, the size of the air purifier should be based on the size of your room.
19. Juicer
There is nothing better than starting the day with a cup of freshly squeezed orange juice. If you want an appliance that is specifically designed for creating healthy juicers, then you should definitely invest in a powerful home juicer. Building a healthy habit of drinking freshly squeezed fruit juices will positively affect your health and well being.
20. Hand blender
A hand blender is a small yet convenient device that will come in handy in the kitchen. Also known as a stick blender, this device is used to mix foods more quickly, as well as create all kinds of purees. A blender like this will make things a lot easier for you when you have to prepare a large meal for the whole family.