14 Best Study Chairs in India (2020): For Students & Home Use
How many hours do you spend working or studying in your office? Poor posture caused by hours of endless studying can lead to serious health and spine issues. That is why it is really important to invest in a best study chair to avoid any back pain and fatigue. Many people overlook the importance of using the right study chair, which can lead to serious negative consequences. Luckily, there are plenty of great study chairs for long hours that will help you work productively without sacrificing your health.
We have put together a list of some of the best study chairs for students and adults, including folding and revolving chairs as well.
Our buying guide also includes important factors you should consider before making the purchase, as well as answers to some of the frequently asked questions on this topic. Also make sure to go through the pros and cons of each product to find the best study chair in India for your home or office.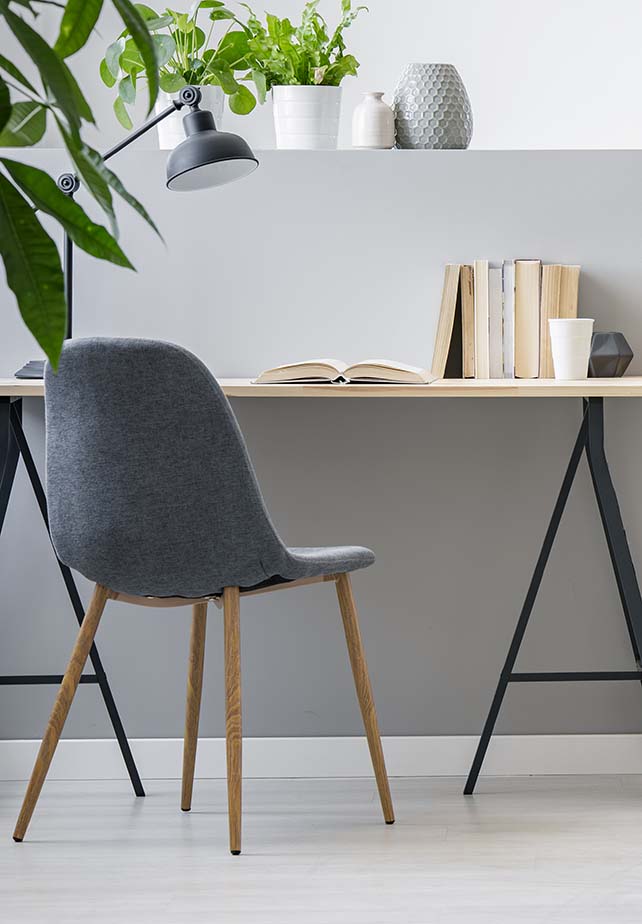 Here is the list of Top 14 Best Study Chairs Available in the Market
AmazonBasics Mid Back Mesh Chair
We'll start with an AmazonBasics mesh chair with mid-back support for comfortable seating. This is a decent office chair with built-in pneumatic height adjustment controls and extra padding for comfort.
The maximum weight capacity of this amazon basics chair is a little over 100 kg. As a DIY product, this chair comes with an assembly manual and all the necessary instructions.
The smooth and sturdy wheels allow you to move around while enjoying the contours of the mesh fabric. Even though it features a classic design with dual wheel casters, this chair is quite comfortable for long hours of studying. It also comes with a one year warranty in case of any issues after the purchase. Keep in mind that this chair have armrests, but they are not adjustable in any way.
Pros:
Contoured mesh fabric
Seat height control
Comfortable padding
Smooth dual wheel casters
1 year warranty
Simple office design
Good airflow and ventilation
Cons:
The seat padding may sink in after long usage
HOF Computer Student Chair Oliviya 3003
Next up is the HOF computer chair suitable for students and adults. This chair features cushion padding both on the seat and the back support. It is packed with convenient features such as the single back lock and push back mechanism.
These features allow you to adjust the back support to your body shape and enjoy more comfort while working long hours. The chair also has a gas lift height adjustment feature for easier height control.
This HOF computer chair also features durable twin nylon wheel castors that can support heavyweight. While you might not be impressed by the plain and basic design of this chair, you will certainly be surprised by the proper back support it offers.
The comfortable padding provides ergonomic support to your spine, which makes this chair suitable for all body shapes. Moreover, the 360-degree swivel makes movement a breeze in this chair.
Pros:
Good back support
Cushioned seat and back
Push back mechanism with single back lock
Height control
Twin nylon wheel castors
Assembly instructions included
Cons:
Not the softest padding you'll find
AmazonBasics Low Back Computer Chair
This AmazonBasics computer chair puts emphasis on the lower back support with the weight capacity of 113 kg. The chair features contoured mesh fabric for soft back support and good air ventilation. It also comes in multiple colors such that you can match it to the design of your home or study room interior.
Moreover, this chair features pneumatic seat height adjustment for height control. The seat padding is two inches thick and won't sink in right away. This AmazonBasics chair comes with durable wheels that roll smoothly and allow full movement freedom around the room.
It has a very simple and minimal design backed up by a one year warranty period. As a DIY chair, it comes with all the necessary installation instructions. One thing we must address is that this chair doesn't feature armrests at all.
Pros:
Available in many colors
Good weight capacity
Contoured mesh for support
Smooth rolling wheels
2 inch thick padding
One year warranty
Pneumatic seat height control
Cons:
IKEA ASIA RENBERGET Desk Chair
This IKEA ASIA chair is a simple desk chair with a plain design built to fit any body shape. This chair features adjustable tilt tension and height settings, as well as a pressure sensitive brake mechanism that stops it from moving when you stand up.
IKEA is known for a wide variety of furniture items, including plenty of study chairs and tables designed to create a more comfortable working environment.
This simple desk chair provides just enough comfort and support to get you through a tiring day. Moreover, the chair features durable castor wheels designed for soft floors. However, keep in mind that the armrests of this chair don't have any soft padding. This could be an issue if you are used to rest the arm on side of the chair while studying.
Pros:
Simple design
Adjustable tilt tension
Pressure sensitive brake mechanism
Good castor wheels
Height adjustment feature
Cons:
The armrests have no soft padding.
Green Soul Alien Series PU Leather and Mesh Gaming/Desk Chair
Next up is the Green Soul Alien series chair that is designed with a combination of high quality leather and mesh materials. This is a gaming style chair that provides exceptional comfort and support, which makes it one of the best study chairs for long hours.
Besides the attractive look and professional design, the chair features multiple adjustment settings such as height control and back support angle.
The pneumatic controls are simple and easy to use and adjust the height within seconds. The chair features durable castor wheels for easy movement. Moreover, it's luxurious padding for extra comfort will make working and studying more enjoyable than ever.
Pros:
Luxurious comfort padding
Three year warranty
Suitable for long hours
Attractive look
Lightweight and comfortable
Leather and mesh materials
Cons:
May not be comfortable especially for those who wants to sit on their back straight
HOF Computer Student Chair Oliviya 3002
Next up is another HOF computer chair designed for students and young adults. This is another study chair with a simplified design and cushioned seat and back support. The chair features a single back lock along with a push back mechanism, thus allowing a good level of customization to fit your body shape.
The chair will require some level of assembly, and it will come with an instruction manual for this process.The seat features gas lift height control, just like any other ordinary chair. However, keep in mind that this chair doesn't have the softest padding, so don't expect any high-end level of comfort. It is a basic student chair that will surely get the job done. Keep in mind that the armrests of this chair do not have any padding.
Pros:
Simple design
Cushioned seat and back
Gas lift seat height control
Push back mechanism and a single back lock
Assembly manual included
Cons:
Armrests have no padding
Not the softest chair
Urban Ladder Eisner Study Chair
The Urban Ladder Eisner study chair has a simple and classy design with comfortable back support that makes a long study session sound doable.
This chair provides ergonomic support with a flexible backrest that will fit any body type. The comfortable padding is wrapped in breathable mesh fabric for better airflow and ventilation. Overall, this Urban Ladder study chair is a sturdy and durable chair, which makes it one of the best study chairs for students and adults.
It features specially designed legs which are strong enough to support heavyweight as well. The chair also comes with a one year warranty in case you come across any manufacturing flaws. The only downside of this chair is that the armrests don't have any padding on this one just like many other study chairs.
Pros:
One year warranty
Simple design
Flexible backrest
Durable legs
Breathable mesh fabric
Ergonomic design for good support
Cons:
SAVYA HOME by APEX Chairs Medium Back Study, Office, Revolving Chair
Moving on, we have the SAVYA HOME APEX chair with additional support for the mid-back area. If you have back pain and similar issues due to spending long hours sitting down, this chair will make it easier to do your work without any painful distractions.
It comes with a pneumatic gas lift feature for good height adjustment and a 360 degree swivel. Besides height adjustment, you can also customize the tilt of the back support. This chair comes in a semi-preassembled condition, meaning it is very easy to put together as you only have a few components to connect.
Despite the simple assembly process, the chair is backed by a one year warranty period. Its durable structure sits on smooth nylon casters while the seat is covered in breathable mesh material. What's special about this chair is its adjustable lumbar support for your mid and lower back areas.
Pros:
Adjustable lumbar support
Durable structure
Strong nylon casters
Mesh material for better ventilation
Easy to put together
Pneumatic gas lift height controls
Increased back support
One year warranty
Cons:
Backrest may not be as comfortable
Finishing is not up to the mark.
Urban Ladder Venturi Study Chair-3 Axis Adjustable
This is another Urban Ladder study chair, this time the fully adjustable Venturi model. This model requires full assembly and it comes with a one year warranty period as well. What's great about this chair is the ergonomic back support paired with a headrest for ultimate comfort. If you are in need of a chair that will support your neck for long hours, this is a great option to consider.
The chair allows you to adjust the height of the seat and the tilt of the neck support section. Its free-rolling castors allow better mobility while the metal legs support heavyweight. The seat cushion is wrapped in double mesh for additional comfort and support. Overall, this chair will look good in just about any study room thanks to its simple yet professional design.
Pros:
One year warranty
Good neck support
Ergonomic back support for comfort
Adjustable height and tilt
Double mesh material
Durable metal legs
Cons:
Quality of the seat cushion and other built material is not up to the mark
Urban Ladder Aurelio Study Chair
The Urban Ladder Aurelio study chair is more of a traditional type of study chair that you will find in many households in India. This chair is made of high quality solid wood with a rich mahogany finish. It is available in olive and sandstorm fabric variants so you can choose which design better suits your interior. It is also important to mention that this chair doesn't require assembling at all.
Overall, this simple study chair with a classic old-school design will get its job done well. It features soft padding both on the seat and the back support. However, do keep in mind that this is a stationary chair, meaning it doesn't have wheels for mobility. It also does not have any height or tilts adjustment features, so it suits well for the persons who wants a non revolving study chair
Pros:
Good for those who want a non revolving study chair
Traditional and classy design
Made of solid wood with a mahogany finish
No assembly required
Sturdy and comfortable
Cons:
No mobility or height adjustment as it is a non revolving and standard study chair model
Sunon Diamond Writing Pad Chair Folding Study Chair
This is the first writing pad chair on our buying guide for best study chairs in India. As such, this is a popular option for students and young adults who require a compact and portable chair. What makes this chair so convenient is that you can easily fold it up when you are not using it and store it away in small and compact spaces.
Since folding chairs are more likely to break, this Sunon Diamond chair is backed up with a five year warranty.It features mesh upholstering and a strong metal base. The dual casters allow the chair to move easily, while the writing pad makes it easy to get work done without needing a large study desk.
Moreover, this chair features a curved backseat for additional back support and comfort. Its basic structure is quite lightweight and easy to put together. However, keep in mind that this might not the best option for long study sessions.
Pros:
Comes with an adjustable writing pad
Five year warranty
Mesh upholstering and metal base
Curved back support
Easy assembly
Foldable and compact
Cons:
May not suitable for long hours of studying
Bit pricier
AlexDaisy Academy Study Chair
Next up is the AlexDaisy Academy study chair, another foldable chair that comes with a writing pad. This chair features high density cushioning that won't sink in even after hours of sitting down and doing your work at the desk.
The strong yet comfortable cushioning is protected by mesh fabric, which allows plenty of air to go in and out of the support cushion.The AlexDaisy Academy chair comes with adjustable armrests, which can be moved up or down depending on your preference. Despite being lightweight and foldable, the chair features quite a strong structure.
It is ideal for students who don't have a lot of space to work with since this chair can be easily stored away when not in use. However, keep in mind that it is not the best option for heavier users or long hour study sessions.
Pros:
Elegant and ergonomic design
High density foam cushioning
Breathable mesh fabric for comfort and support
Lightweight yet strong and durable
Compact and easy to fold
Ideal for small spaces
Cons:
May not be comfortable for long hours of use
CELLBELL® Folding Study Chair with Cushion & Writing Pad
Next up is the CELLBELL folding study chair with a simple writing pad. Unlike the chairs we previously reviewed, this one is suitable for outdoor use thanks to its heavy-duty frame and sturdy structure. Even though it is quite lightweight, this chair can hold up to 100 kg of weight. Its writing pad is very flexible, but it won't move around once you lock it in the right position.
Moreover, this chair features non-moving floor glides that keep it in place in both outdoor and indoor environments. Overall, the chair provides a decent amount of comfort considering its convenient folding design. However, it is not in any way built to provide enough support for long study sessions.
Pros:
Heavy-duty frame
Simple design
Suitable for outdoor use
Durable and sturdy writing pad
Lightweight
Supports up to 100 kg in weight
Features non-sliding glides
Cons:
RedOAK Jason Black Chair with Cushion Seat and Wood Legs
Finally, the last item on our list of best study chairs in India is the Red OAK Jason Black chair with a simple minimal design. The chair features sturdy wooden legs and a simple seat with back support. This is by far the easiest DIY chair to put together because the assembly kit only includes five screws. Moreover, this chair is available in multiple vibrant colors to fit any interior design.
When it comes to comfort, this RedOAK provides enough comfort to spend a few hours working in an office without any interruptions. This chair is best known for its modern look and attractive design. It will last for years thanks to a sturdy plastic back support paired with wooden legs. The only drawback is that there are no armrests or back padding for additional comfort.
Pros:
Sturdy wooden legs
Minimal and modern design
Long lasting structure
Easy to assemble – Five screws only
Compact size
Lightweight
Cons:
No soft padding for back support
No armrests
Things to Consider Before You Buy a Study Chair
If you are not sure which office chair is the best option for you, take a look at some of the features you should be paying attention to:
Lumbar support
Chairs with lumbar support provide extra support to the lumbar region of the spine, which is the area between the diaphragm and sacrum. Proper lumbar support is crucial for maintaining good posture and spine health.
Therefore, make sure the chair you choose provides proper lumbar support, especially if you are planning to spend hours working or studying in your office. Keep in mind that you can also buy additional lumbar support attachments to improve the comfort of the chair.
Type of Fabric and Cushioning Material
Most office chairs are made of breathable mesh material to allow proper airflow and prevent heat from building up. Mesh helps keep the air flowing between your back and the chair support, making it more comfortable to spend hours in the same position.
Leather chairs, on the other hand, have less of an airflow capacity compared to mesh chairs. When it comes to cushioning material, it is important to make sure that a study chair for long hours has proper padding for additional comfort. Poor quality cushioning tends to sink in after a few hours of sitting, which can lead to low comfort and fatigue.
Height adjustments
Best ergonomic study chairs usually have a height adjustment feature to allow the user to change the height of the chair. This mechanism usually works on gas that is powered by a small handle under the chair.
Height adjustment is an important factor for maintaining good posture and overall comfort while sitting down. If the chair is too low, you will find yourself sitting in a very uncomfortable position for hours. Chairs that are too high, on the other hand, will lead to crouching and bad posture in the long run.
Armrests
While not all study chairs have armrests, the ones that do are definitely the more comfortable option. Armrests allow you to sit your elbow at the side of the chair while studying or using a computer. However, not all armrests are comfortable enough to help improve your posture.
Many chairs come with bare plastic armrests with no padding for support. If you want to get the best out of an ergonomic study chair, go for the chair that has armrest padding and adjustment features. While most study chairs have fixed armrests, some allow you to adjust the height and angle of this convenient attachment.
Swivel
A swivel chair is a rotating chair that features single leg support with wheels on the bottom. The good thing about swivel chairs is that they can be rotated 360 degrees in both the left and right direction. This allows extra movement around your desk or office space.
In case you need to reach something on the left side, you do not have to get up every time. Instead, simply roll the chair to the side and grab what you need. Swivel chairs are very convenient in office and study spaces. However, make sure the chair you choose has a smooth rotating mechanism that can support your weight and posture.
Caster wheel
A caster is a small wheel attached at the bottom of the chair that allows movement and rotation. High quality study chairs feature dual casters, that is, two wheels instead of one on each end of the chair leg. The majority of chairs feature five or six single or dual casters to allow easier movement around the area.
When choosing a chair, make sure it has sturdy and durable castors that can support heavyweight and long hours of use. After all, the last thing you want is to end up with a chair whose wheels keep breaking.
Stability
If you choose a chair with no wheels, you are likely going to have more stability while sitting down, since the chair won't move. However, even the chairs with castor wheels can have enhanced stability. The higher quality chairs feature a stability lock that prevents the chair from moving once you sit down. Back support adjustment features also allow you to tighten or loosen the upper part of the chair and thus increase or decrease the stability.
Overall, you want the chair to be stable enough for you to completely relax while sitting down. However, don't tighten the chair too much because the back support section could be too stiff and uncomfortable.
Weight bearing capacity
Weight capacity is a very important factor you must check before buying a study chair. Most study chairs are capable of holding 100 to 120 kg of weight. However, smaller chairs are more suitable for children and students rather than adults and heavier people. If you're concerned about the weight, make sure to check the manufacturer's weight capacity statement before buying the study chair.
Don't use the chair if the weight capacity is not sufficient for your needs. After all, you would not only damage the chair but also risk an unnecessary injury.
Assembly type
Many study chairs require some type of assembly process after the purchase. DIY chairs come with assembly instructions and they are usually very easy to put together. In most cases, you will be able to assemble the chair without any professional help.
Some study chairs are sold fully assembled and ready for use. However, keep in mind that these chairs are more difficult to transport to your home or office. If you opt for a DIY chair, make sure the assembly manual is included in the package.
Warranty
The typical warranty period for study chairs is between one to five years. A warranty will help you ensure you're making a safe purchase, as you won't have to spend extra money on repairs or returns in case the chair has a manufacturing flaw. Some warranties cover certain levels of damage, so you might be able to get away with free repair in the first few years of usage. As with any product you buy, it is always better to have a warranty to back up the purchase. Even though this might not be the most crucial factor when it comes to buying the best study chair, it is a great feature to look for.
Sturdiness
If you are looking for a non revolving study chair, strudiness is one of the most important points to consider.
The best ergonomic study chairs usually feature a balanced level of sturdiness so they are neither too loose nor too stiff. A good study chair should be stiff and sturdy in the bottom section, that is, in the support legs . The top of the chair where you will be sitting should be soft and comfortable.
Foldable
Chairs that can be folded are a good option if you don't have a lot of room in your home, or you need multiple chairs that can be stored away. Foldable chairs might not be as stable as regular chairs, but they will come in handy in certain group study situations.
If you are studying in a small space and you don't have enough room for a full size office chair, a foldable chair will be easy to put away when you're not using it. If you opt for this type of chair, make sure it is durable and stable enough to avoid any injuries.
Writing pad
In order to get the best out of your study experience, you will need the best study chair and a table to go along. Some chairs already come with a table or a writing pad that can come in handy if you don't have a large desk in your room.
You can pull up the writing pad when you need it or let it sit on the side of the chair when you are not using it. Either way, a writing pad is a convenient addition to any study chair, as long as it is sturdy and stable enough for writing.
Quality of material
Quality of material is always something you should be looking for, regardless of which product you are buying. When it comes to chairs, the best option is to go for mesh material chairs with soft padding for back support. Make sure the chair features thick padding that won't sink in after a few days of usage.
Another thing to look is the quality and material of the leg support, as these need to be sturdy enough to hold heavier weights without any problems.
Extra attachments
If you want to go all in and transform your home or office into the best productivity space possible, consider adding some attachments to your writing study chair. The most common attachments include a writing pad (if it doesn't already come with the chair), and a cup holder, which can come in handy for long hours of working and studying.
You can also look for back support attachments or neck extensions to take the comfort of the chair to the next level. Regardless of which chair you choose, you can always improve it with convenient attachments and extra padding for support.
Frequently Asked Questions
Here are some of the most frequently asked questions about the study chairs
Is there any difference between a normal study chair and office chair?
Offices usually feature premium high-end chairs with a luxury design. These chairs look and feel more comfortable than ordinary study chairs because they are designed in such a way to be comfortable to work for longer hours within a company. If you don't mind spending a bit extra money, invest in an office chair for more comfort and luxury and use it as a study chair.
What is the ideal height/ position for a study chair?
The ideal height and position of a study chair depend on your height and posture. In order to properly adjust the height of the chair, stand next to it and lower it down until the highest point of the seat is just below your kneecap. That way, your knees should be at a 90-degree angle while sitting down with your feet flat on the floor.
Which study chair is good for long hours?
The best study chair for long hours is the one that provides proper back and lumbar support. Look for a chair with thick and soft padding and mesh fabric for proper air ventilation. Lastly, the right chair should have all the necessary height adjustment features to make it more comfortable to spend hours in the same position. For extra comfort, look for chairs that have padded armrests instead of bare plastic ones.