Incredible Space Saving Furniture for Your Flat
Are you struggling to fit all your furniture and essentials into a small space? In India, many people live in small houses or apartments that have limited space, but that doesn't mean that you can't make the best out of their space. With the right space saving furniture, you can fit all your belongings into a small home and even make some extra room too. Modern space saving furniture in India will allow you to combine functional items such as beds and tables with storage compartments so you will get efficient two-in-one solutions.
We have put together the best space saving furniture for small flats so you can make the best out of your space, no matter how small it is. Take a look at the list mentioned below as well as the importance of these furniture.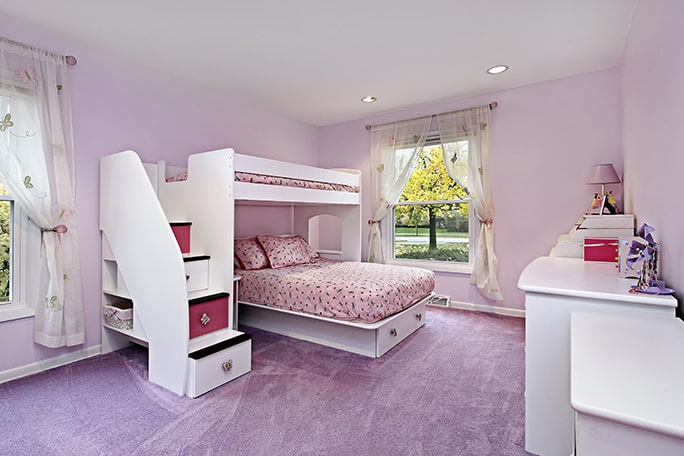 Why is Space Saving Furniture Important?
If you were staying in a 1 bhk or 2 bhk apartment you might have come across the struggle to fit all your furniture properly at one time or other. You can overcome this problem by opting for an ideal space saving furniture in India. This is because these types of furniture can help to add extra storage space or make room for walking, dining, or sitting in front of a TV.
A small flat can easily be turned into a modern living space with a contemporary design. Start by getting rid of all the clutter you don't need and then invest in space saving furniture to utilize every inch of your home. If you combine a few of these space saving ideas, you will find yourself in a much more functional apartment. However, make sure to consider the price, durability, ease of use, and other important factors before purchasing.
List of Space Saving Furniture for your Flat
Now that you have known why these furniture are important for homes, These ideas will help you take your interior design to the next level. Most importantly, these solutions will give you enough room to live comfortably without cluttered furniture and items all around you. Take a look at some of the best space saving furniture available in India, as well as how these items can help improve your environment and quality of life.
Bed with storage
The most important thing you need to do when trying to free up some space is getting rid of clutter and find new storage spaces. If you are running low on storage space, it is a good idea to invest in a bed with storage space underneath it.
There are many types of beds on the market and most of them feature some kind of storage compartment under the bed. This will allow you to store your extra items in a place where they won't be visible.
Sofa cum Bed
If your apartment is too small to fit a regular sized bed, consider looking into sofa cum beds. This is a classic sofa-sized piece of furniture, although it has a twist to it.
You can easily pull the lever underneath the sofa to pull out the bottom section. That way, you will get a functional bed that is big enough to fit one or even two people. In the morning, you can put the bed away just as easily and thus save some extra space in the room. When not fully open, the sofa can serve as a couch, which makes it a great choice.
Bunk Bed for Kids
Having two kids in a small apartment can be more challenging than you think. If there is not enough space in the house for two kids' bedrooms or even two beds, you can solve this issue by investing into a bunk bed.
This piece of furniture takes up as much space as a single bed, so you will be able to fit two kids in a room that might only be big enough for one. To make things even better, kids really love bunk beds and so they won't be against this idea.
Foldable Wall Beds
If sofa beds are not your thing, there is one more way you can incorporate a full-sized bed. We're talking about foldable wall beds that can be lifted up into the wall when not in use. They were commonly referred as murphy beds in market. This type of beds are a great solution, as it will provide extra space when the bed is not pulled out. On top of that, foldable wall beds fit well into modern interior design styles.
Foldable Dining Table
Since we have already mentioned foldable beds, why not pair those with a foldable dining table? Dining tables are usually bulky and take too much space. If you think about it, we only use the dining table for a couple of minutes each day.
Once the meal is over, we leave this space until the next lunch or dinner. With foldable dining tables, you will be able to utilize this space even when it is not mealtime. Simply fold the table up and you will get some extra room in your kitchen or living space.
Wall Mounted Table for Dining
Another way to save space with dining tables is to install a wall mounted table. These tables, as the name suggests, are mounted to the wall to maximize space efficiency.
Depending on the model, these tables can be folded into the wall to provide more room for walking around the kitchen. Simply pull up the table whenever you need it and put it down when not in use. This will make your home appear larger and more spacious instead of being filled with furniture.
Coffee Tables
Large tables in the living room might not be the best fit for small places. Space saving furniture for small flats is all about minimized items that are small yet highly functional. One of these items is coffee tables, which can serve as a living room table. They still provide the same benefits in terms of functionality and appearance. However, unlike real living room tables, they take up less space, which is key to furnishing a small apartment.
Corner Study Table
If you have a child in the house or you are a student yourself, it might be difficult to make room for studying in small spaces. However, you can incorporate a study desk. All you need is a corner study table that will fit in the room. If you think about it, we rarely ever use corners of the room to their maximum potential. A corner study table would really put this space to good use.
Wall Desk
If corners are not a good option for your study space, consider using a wall desk to save some room. Wall desks appear minimal and provide plenty of space around them. This way, you will avoid unnecessary things and the room will look much more spacious to the eye.
Most importantly, wall desks come in a variety of sizes so you can adjust the furniture to the amount of space you have to dedicate to working or studying. These types of desks are a great option for modern design spaces with minimalist features.
Nested Stools
Nested stools are a great way of saving space without sacrificing the amount of furniture you have at home. If you often have guests and you need more than two stools to have everyone seated, a set of nested stools will allow you to save some space when these items are not in use. These stools can fit into one another, which makes it easier to store them in the kitchen or a storage room.
Foldable Stools
For those who want to go a step further, foldable stools are an even more efficient solution for space saving. Namely, once you fold these stools, you can easily fit them behind other furniture or even underneath it. They are easy to store and doesn't take much space in your room. Therefore, if you need extra seating space when you have guests over, a set of foldable stools will be the best solution.
Sliding Storage Racks rather than Opening ones
No matter how much you clear your space, you will always need storage racks for clothes and similar items. One way to save some room with these pieces of furniture is to choose sliding storage racks instead of opening ones.
If you don't have much space in your room, you will not be able to fit a storage rack with opening doors because you will need that extra few inches of space in front of the rack to be able to open it. A sliding storage rack, on the other hand, can fit anywhere because it doesn't need extra space to be used.
Pouffes with Storage
Pouffes are a great addition to interior design because they look modern and sophisticated. They also serve as an extra seating space or a footrest at times. However, if you are planning to get a pouffe, make sure to get one with extra storage inside. That way, this piece of furniture will get an additional purpose and you will be able to store some smaller items in a place that won't be visible or noticeable.
Foldable Chairs
We have already mentioned portable stools, which can serve as extra seating spots in case you have guests. However, if you are dealing with a really small space, you might as well consider getting foldable chairs for your home. These things can provide extra room in the kitchen or the living space. All you have to do is fold them when not in use and the chairs will fit under the table or in the corner.
Bookcase with Pulled out Shelves
If you are a bookworm but you don't have enough space to store all your books, this can be a great fit for you. Since traditional bookcases take up way too much space, consider investing in a bookcase with pulled out shelves.
This piece of furniture allows you to store many books without taking up nearly as much space as an ordinary bookcase would. As one of the best space saving furniture ideas for small flats, these bookcases have two shelves that you can pull out to access the books inside.
Chair cum Ladder
Convertible chairs that can turn into ladders are a great addition to a small home. They can come in handy if you need to reach something off the top shelf. The best thing about this piece of furniture is that it can serve as a chair when you don't need the ladder part. It can also be set up as a decoration item in the corner of the room.
Space Saving Kitchen Organizers
One place that has the most clutter in a household is the kitchen. Utensils and small kitchen appliances always end up on the kitchen slab. If your kitchen gets messy too quickly, you should look for a neat kitchen organizer to sort these small items properly. Kitchen organizers will not only save a lot of space, but they will also help you find the items you are looking for without having to turn the place upside down.
Space Saving Cabinets
Lastly, look into space saving cabinets as one of the most popular modern space saving furniture pieces. These cabinets are designed to fit as many items as possible while not occupying a lot of space in the kitchen.
The unique cabinet designs feature multiple doors or pull out shelves that contain well-structured storage compartments. Overall, these cabinets will change the way you store items in your kitchen, as well as provide some extra space for air to fill up the room.
What do you need to look before buying Space Saving Furniture?
Once you choose the furniture you need at home, there are a couple of points you must consider before making a purchase. Start by looking into the durability of the products you are interested in because space saving furniture's are often fragile compared to solid wood or engineered wood furniture due to their design.
For instance, foldable chairs are likely going to be less stable than fixed chairs, but that does not mean you cannot find a durable and long-lasting set.
Look into different brands and manufacturers to find furniture that are durable yet easy to use. Make sure that all foldable parts are sturdy enough to withstand frequent changes of position. If you are looking for foldable sofa, bed, or chairs, look for those made of high-quality materials that won't break or get wobbly after folding them a couple of times.
Lastly, consider the pricing of space saving furniture and keep in mind that price ranges will depend not only on the quality of the furniture but also on its size and the brand behind it.
Final Words
Living in small spaces does not have to be a challenge. With so many space saving furniture ideas out there, you can easily incorporate all the essential items you need into a limited amount of space. All you have to do is think strategically in order to fit all the furniture pieces together.
Space saving furniture will allow you to get the most out of your space by expanding the storage in your room and reducing unnecessary items that are always around. Also choose furniture such as beds and pouffes with storage compartments for your use.
Combine furniture pieces such as foldable desks and foldable chairs so you can put them away when not in use. Corner desks and wall tables are a great way to incorporate an office area or a study space into a small flat.
If you want to take things even further, invest in a foldable bed and minimal bookshelves to save as much space as possible. Don't forget to look into the modern space saving furniture ideas we listed above!