The 15 Best Rechargeable Fans in India: Table, Pedestal and Solar
Are the high temperatures in your home stopping you from enjoying your free time? With weather starting to get hotter, it's time to look for the best rechargeable fan in India! A high quality fan will help you maintain a comfortable temperature at home without wasting too much electricity. The right rechargeable fan should be powerful enough to provide a consistent cool breeze, even when the power is out.
Continue reading our guide to learn more about cooling fans and find the best unit for your space. Whether you are looking for the best rechargeable table fan or a rechargeable pedestal model, we have included a variety of options for you to choose from. Stick around till the last sections to learn how to buy the right rechargeable fan and get answers to the most frequently asked questions about this topic.
However a important point to note is that the performance of most rechargeable fans with respect to their speed will not be same as that of a normal table or pedestal fans. Its much lower when the fan works using the rechargeable battery as the power is not coming from a direct source. Also its same with the backup efficiency.
Its really good to have a inverter connection to your ceiling fan if you want a good air flow for the entire room incase of any power cuts. If you are in a limited budjet and thinking to limit yourself to a rechargeable fan then have a look at our list and buying guide.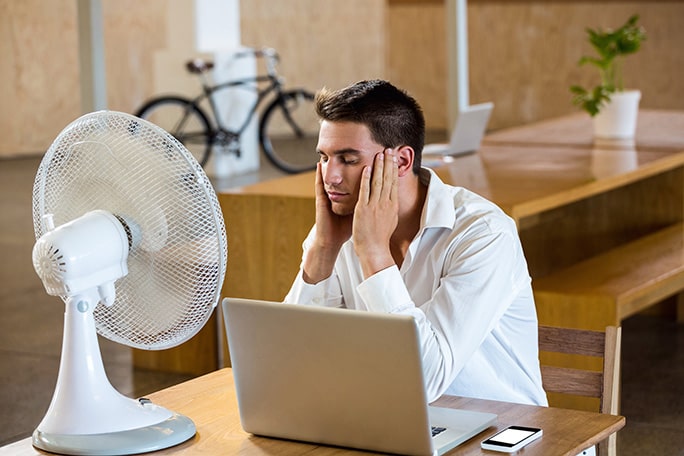 Here is the list of Best Rechargeable Fans in India- Table Fans
1. Space Life Rechargeable Table Fan
We will start off with one of the best rechargeable fans by Space Life. This is a 12 inch table fan with an oscillating feature and three speed modes. It is fully adjustable in terms of airflow speed and intensity.
The fan comes with a durable battery that provides 4 to 6 hours of backup power during an outage. It can also serve as a mobile power bank in case you need to charge mobile devices such as phones and tablets. Moreover, this fan can be used both in AC and DC modes so it provides a powerful breeze without consuming too much energy.
Overall, these features make for a decent rechargeable fan that won't let you down even after years of usage.
Features
12 inch table fan
Oscillating mode
Three fan speeds
Backup power source
Pros
The fan is made of durable materials
It can be used both in AC and DC modes
Serves as a mobile power bank as well
Oscillation mode allows better distribution of airflow
Cons
Little bit wobbles when tilted up and down
2. OPOLAR Biggest Battery Operated and USB Powered, Rechargeable Desk Fan
This OPOLAR fan unit is one of the largest battery and USB operated fans on the market. As one of the best rechargeable fans in India, this model features two batteries of 2600 mAh each.
The nine inch metal frame makes for a durable and long-lasting structure that won't be too difficult to clean. The best part about this fan unit is that it operates at very low noise levels of 40dB or less. It features two speed settings and multiple power supply sources, which can come in handy in case the power runs out.
Features
Two separate batteries provide more power than average fans
9 inch metal frame
Low noise operation
Two speed settings
Pros
This fan can run 6 to 9 hours at a time, depending on speed and intensity levels
There are multiple power supply options
The fan can be adjusted 360 degrees and provide airflow at any desired angle
Cons
Little bit small in size.
3. Mr. Right 3 Blade Rechargeable Plastic Table Fan
Next up is the Mr. Right rechargeable table fan made of durable and long-lasting plastic. This fan features three aerodynamically designed blades for ultimate airflow efficiency and it can also be used both in AC and DC mode.
What's great about this fan is that it features simple and intuitive controls along with an LED lamp. There is also a backup USB port which you can use to charge your smart devices. This Mr. Right fan can run up to four hours continuously at the high speed. If you choose to use it on the lowest speed mode, it will operate up to ten hours.
Features
Three 12 inch blades
LED lamp included
Durable and rechargeable battery
Long operation hours
Pros
The fan can be placed both on a table and on a wall
Features simple and intuitive controls
Usable in AC and DC mode
Has a USB port for charging phones
Cons
Power cable is little bit short.
4. Geek Aire, 6 Inch Rechargeable Oscillating Table Fan
The Geek Aire rechargeable table fan measures only six inches in size but it packs a lot of power for such a small fan. With a 5200 mAh li-ion battery, it can operate for up to 8 hours on Low speed settings.
Moreover, this fan has a very convenient timer feature that allows you to adjust the length of the working period by holding the control knob. The three aerodynamic blades provide high airspeed performance thanks to a fast yet quiet brushless DC motor.
Lastly, we must not forget that this unit can be rotated 180 degrees to meet different angle requirements.
Features
Powerful 5200 mAh Li-ion battery
LED battery indicator
180 degree rotation
Timer function
Pros
This fan can operate at very low noise levels
Provides a strong and powerful breeze for 8 hours straight
The LED indicator will let you know if the battery is low
Cons
Small 6 inch fan, so look at your requirements before making the choice.
5. Eveready Rf-04 Rechargeable Table Fan
Next up is the Eveready rechargeable table fan measuring 10 inches in size. This fan has three different speed settings and the highest RPM rate of 1200.
Moreover, it comes with a built-in LED lamp, so it provides lighting if you are working at the table in case of any power cut. The Eveready table fan can be turned 90 degrees in both directions to adjust the airflow.
Given that the fan is 10 inches in size, it can cover a large area with a cool and refreshing breeze. Moreover, it usually comes with a 6 months warranty.
Features
10 inch frame
Three speed settings
1200 RPM
Adjustable direction
Pros
Durable fan with powerful airspeed capability
Built in LED light
Can be rotated 90 degrees in both directions
The fan comes with a warranty and it covers a decent area with its wide airflow
Cons
6. Impex Breeze-D1 Solar Rechargeable Fan
The Impex Breeze rechargeable fan, as the title says, can be charged through solar power to save money and electricity.This fan features three blades and a built-in LED light.
It can operate at 1700 RPM to provide a cool and powerful breeze at all times. Moreover, this 7 inch fan features two speed settings and a light control section, as you can use both the fan and the light at the same time.The brushless DC motor allows for fast and quiet operation up to six hours at one time.
Features
Battery rechargeable by solar power
High speed operation at 1700 RPM
Three aerodynamic blades
Brushless DC motor
Pros
This fan can be used up to 6 hours at one time
There are two different speed settings
The attached handle allows for better portability
Cons
7. Mr Bright Rechargeable table fan
The Mr Bright rechargeable table fan features a simple LED battery indicator and powerful blades. This 18 inch fan can run both in AC and DC modes with five speeds to choose from. With such great speed adjustment capabilities, this unit makes for the best rechargeable fan for homes and offices.
It is made of durable and high quality materials, yet it is still lightweight enough to be portable around the house. Moreover, the fan can operate up to 4 to 5 hours in one go and it has a convenient timer feature as well. The bright LED light that's built into the fan can run up to 13 hours.
Features
Built-in LED light
4 to 5 hours of backup power
Lightweight and durable
Timer function
Pros
The 18 inch fan offers great coverage
The LED light can run for long periods of time
The fan features overcharge protection to prevent malfunction during charging
Cons
So far, no cons for this one
8. Akari Ak-8083 Rechargeable Solar Charging Table Fan
The next rechargeable fan on our list is the Akari solar charging table fan that allows both AC and DC operation. This fan features a frame that is a combination of plastic and metal components.
It measures 16 inches in size and provides a refreshing breeze for up to 3.5 hours on the high speed mode. If you choose to run the lower speed settings, the fan will operate up to ten hours in one go.
The solar charging feature allows you to save electricity, whereas the emergency LED light will notify you when the battery needs to be recharged. Overall, this fan is highly cost effective and it provides great results both in AC and DC modes.
Features
16 inch fan size
AC and DC operation
Solar charging
Emergency LED indicator
Pros
Refreshing cool breeze at all times
Long operating hours (depending on speed and intensity)
Cost effective charging solution
Large fan size
Cons
Built quality is not up to the mark
Low battery backup
9. Geek Aire, 12 Inch Rechargeable Table Fan
The Geek Aire 12 inch rechargeable table fan features an enormously powerful battery of 15600 mAh. This li-ion battery allows the fan to operate from 4 to even up to 24 hours after only one charge that varies up on speed settings.
This is a very powerful fan unit that features a metal body construction and the latest BLDC motor technology for highest speed and efficiency. Most importantly, the fan is quiet yet very consistent in providing cool breeze. It can be tilted 120 degrees and its body is also fully water resistant. The battery takes four to five hours to fully charge.
Features
15600 mAh Li-ion battery
Water resistant metal body
BLDC motor technology
Two year warranty included
Pros
Quiet yet very powerful operation
The tilting mechanism allows you to adjust the fan for up to 120 degrees
Cons
Little expensive
Issues with battery
10. Rico Rechargeable Battery Table Fan
Next up is the Rico rechargeable table fan featuring a Japanese swing technology and a 4500 mAh battery. This fan operates at high speeds and offers an oscillating feature that allows better and more efficient cooling.
The quick charge technology makes it ready to go in under two hours. However, this fan can operate for upto 2 hours on complete charging.
The multi-angle tilting feature allows you to adjust the direction of the airflow, whereas the convenient hanger makes it easy to position the wall inside your home or office. This Rico rechargeable fan also comes with a one year warranty period.
Features
12 inch fan
High speed blades and oscillating feature
Quick charging technology
Long-lasting structure with a powerful battery
Pros
The fan can operate at high speeds in any angle
The Japanese swinging technology allows better cooling efficiency
The one year warranty period makes this a safe purchase
Cons
11. DazzelOn 14-inch Rechargeable Table Fan
Next up is the DazzelOn 14 inch rechargeable fan with an LED light and different speed settings This fan features a 4500 mAh replaceable battery, meaning you don't have to buy an entire new fan if the battery breaks down.
With its power supply, the fan can operate 5 to 8 hours in one run depending upon the speed, it has both both AC and DC power modes. The swivel head can be rotated for 150 degrees to adjust the airflow the way you prefer it. The USB port provides 15 hours of backup power for you to charge your phone or other electrical devices.
Features
14 inch rechargeable table fan
LED light built in
Replaceable battery
AC and DC mode
Pros
The fan has a 150 degree swivel head that allows you to adjust the airflow
The five aerodynamic blades allow great speed and performance
USB port provides a backup charging source
Cons
Issues with battery backup.
12. Globex® Rechargeable Table Fan
Next up is the Globex table fan with 8 inch long blades. The entire fan, including the frame, measures ten inches in size. Both the fan and the built-in LED lamp are battery operated and can run up to 4 hours at one time.
However, the fan does take 8 to 10 hours to fully charge, which is quite a long time for a 10 inch table unit. If you don't mind the long charging time, this unit can easily pass as one of the best rechargeable table fans because of its user-friendly interface and a powerful and long-lasting motor.
Features
Built in LED lamp
10 inch frame size
User-friendly interface
Powerful airspeed performance
Pros
Durable and long lasting frame
Simple and easy to use and adjust the airflow
The powerful motor won't let you down for years to go
Both the fan and the lamp are battery operated and can run up to 4 hours
Cons
Built quality is not up to the mark
Long charging time
Smart Rechargeable Fan
1. OPOLAR 10000mAh Battery Operated Desk Fan
We had to include a smart rechargeable fan on our list because of all the convenient features such as multi-directional airflow and quick charging. This particular fan packs a battery of 10000 mAh and it is both rechargeable and USB powered.
As a double unit, it actually features two fans stacked on top of each other to provide double the speed and airflow performance. This tower fan is completely cordless and suitable for both indoor and outdoor use. It features 110 degree oscillation and it can be rotated 360 degrees in any direction. Moreover, the fan offers three speeds and a very low noise operation.
Features
Cordless tower fan
16 inch double fan unit
Quiet operation
Three different speed settings
Pros
Can be rotated 360 degrees
Multi-directional airflow
There are two independent motors and fans
Operates at extreme speed and power
Cons
No considerable cons for this one
Best Rechargeable Pedestal Fans In India
1. Prabha Solar 15W (16 Inches) AC/DC Rechargeable Pedestal Fan
Last but not least, the final product on our list is the 16 inch Prabha rechargeable pedestal fan suitable for both AC and DC mode. This large 16 inch fan is surprisingly easy to handle.
It features a long-lasting heavy powder coated grill and a USB port for mobile chargers. Moreover, it can be charged with solar power to save money and energy. Overall, the fan is highly efficient when it comes to providing consistent cool air and LED lighting.
Features
Heavy powder coated grill
Durable ABS plastic material
Solar charging
Energy efficient cooling system\
Pros
The fan is easy to handle and control
The USB port allows you to charge other devices
LED lights can be used at the same time as the fan
Cons
No Considerable cons, so far.
2. Eveready RF05 Rechargeable Pedestal Fan
Now we are going to move onto pedestal fans, starting with this Eveready rechargeable 16 inch fan. This unit provides 3 to 4.5 hours of backup power time and it features a convenient glow switch for operation in the dark.
As a high speed fan, it offers a variety of speed settings, along with a 170 to 260V operating range. Moreover, this pedestal fan has a sturdy stand installed on a heavy and stable base.
Regardless of which speed mode you choose, the fan will stand firmly in its position. Lastly, the product is covered by a six months warranty in case there are any issues or concerns after the purchase.
Features
16 inch pedestal fan with a stable base
3 to 4.5 hours of backup time
6 month warranty included
Wide operating range
Pros
High speed durable fan
Comes with a stable and sturdy base
Covered by a warranty
Powerful enough to cool the entire room
Cons
Quality and battery backup is average
No LED light
How to Buy the Right Rechargeable Fan
With so many rechargeable fans available on the market, it is easy to get lost in the sea of options. So, consider the following factors to choose the right fan for your needs.
Size
The first thing you should look at when buying the best rechargeable fan is its size. Be careful not to confuse the size of the blades with the frame size, since there is a slight difference between the two.
The size of the blades will give you an insight on how big of an area the airflow will cover. The frame size, on the other hand, serves to give you an idea of how much space the fan is going to take.
Battery
The battery of a fan should be of high quality and rechargeable. Look for fans that feature long-lasting lithium batteries that can operate for 6 to 10 hours in one go.
If you want to get the most out of your money, consider investing in a fan with replaceable and rechargeable batteries. That way you can simply replace the battery if it goes bad without having to purchase an entire fan.
Rotations (RPM)
The RPM refers to the number of rotations the fan's blades make within one minute. The higher the RPM, the more powerful the fan is going to be, since the blades will be moving at a higher speed.
Average table fans feature an RPM between 1200 and 1350. However, the specific number will depend on the product itself. If you are looking for a high speed fan with outstanding airflow performance, look for higher RPM ranges.
Easy to carry (Portability)
Rechargeable fans can be a bit bulky in size, which can make them difficult to carry around. Even though portability is not one of the priorities when it comes to this type of fans, they should be easy to carry around the house so you can adjust the position and the airflow direction.
Pedestal fans usually have a frame suitable for portability, whereas high quality table fans have a carrying handle. Make sure to consider the size and shape of the fan in terms of storage capabilities, as you probably won't be using the unit all year long. Having a portable fan will make it easier to store the device away when not in use.
Noise levels
If you plan to use the fan while sleeping or doing work, it is important to choose the rechargeable fan with low noise levels.
The average noise level of a table or pedestal fan is between 60 and 70dB. However, you will find that our list of reviews has some of the higher quality fans with noise levels below 60dB. These fans are perfect for working conditions as they won't disturb your focus with loud buzzing sounds.
No of Hours it can run (Back-up)
Before you settle for the first fan you like, check its power and capability, including how many hours it can run on a single charging session. Most fans can run continuously between 4 to 6 hours at high speed. However, some models can even run up to 15 hours depending on the speed settings you choose.
Oscillation modes & Speed Settings, Tilting
The best rechargeable fans have multiple advanced features including different oscillation modes and tilting capabilities.
Look for a fan that can be tilted in multiple directions to adjust the angle of the airflow for more comfort and efficiency. The right fan should have multiple speed settings and oscillation modes so you can fully customize the cooling experience.
LED indicators
Even though this feature is not a necessity, it is a cool addition to any rechargeable fan, since it will keep you informed on battery levels all time. Some of the rechargeable table fans even feature LED lights that can be used as a lamp.
Multiple power supply option
The main power supply for most rechargeable fans is the traditional electrical plug. However, some of the fans offer multiple power supply options to provide more variety and accessibility.
These options include solar charging, USB port charging, and battery operation. Battery operated fans will come in handy in case you run out of power, since you will still have a working alternative.
Solar charging, on the other hand, can help save money on your electricity bill and support the environment.
AC-DC compatibility
A high quality rechargeable fan should be able to operate both in AC and DC modes. This means that a fan is compatible with both alternating and direct current. Fans that have a DC capability consume up to 70% less energy compared to AC-only fans. Besides, DC compatible models are usually less noisy than AC-only ones.
Easy to clean
Before you make the purchase, check whether the fan you are interested in would be too difficult to clean. Fans with removable grills are generally easier to clean, since you can remove the front section and access the blades more easily.
It is important to clean and maintain the fan regularly to prevent dust from building up and affecting the airspeed performance.
Customer service
Even though customer service has nothing to do with the actual quality of the product, it is always better to choose brands that offer customer support. For starters, a service like this proves that the brand in question is reputable and trustworthy.
Moreover, having someone to contact in case there is an issue or a concern over the product will ensure a safer purchase. Even though this does not have to be the primary factor when deciding whether you want a specific fan or not, it is a good feature to look for if you want the best quality.
Price
Our list of the best rechargeable fans in India contains a variety of price ranges to meet everyone's budget. While the pricing should not be the main point of focus when purchasing a fan, you should still consider different options so you do not break the budget.
Generally, table fans are quite affordable. However, the specific price will depend on the quality, brand, and the number of features on the device.
Warranty
Last but not least, having a warranty is just as important as having access to customer support services. A warranty will ensure that you are making a safe purchase, as you will be able to replace or service a fan if necessary. Some fans come with great warranty covers ranging from six months to two years.
Best Rechargeable Fan Brands In India
If you would like to base your purchase on the brands behind these products, we have put together a list of best rechargeable fan brands in India. This list will give you a better insight into which brands are considered premium quality sources of cooling devices, including both standing and pedestal fans:
OPOLAR
RICO
Eveready
Geek Aire
Impex Breeze
FAQs
What is the average price of a rechargeable fan?
The price of a rechargeable fan depends on multiple factors, including the brand, product quality, features, and size. An average table rechargeable fan costs anywhere between 2500 to 3000 INR. If you are looking for the best rechargeable pedestal fan on the market, be ready to spare anywhere between 4000 to 5000 INR.
How long does a rechargeable fan run usually?
This is one of the key factors when choosing a fan, as well as the most commonly asked question about these devices.
On an average rechargeable fan runs 4 to 8 hours, the reality of this is much different. For starters, the full operation time per charge depends on the quality of the fan, the charger, and the battery unit. Therefore, this number will differ for each device and manufacturer. Besides, the amount of time a fan can run without breaks also depends on the speed settings and intensity of airflow you choose.
How much time does it take to recharge a fan? What about solar ones?
On average, fans can be charged within 3 to 4 hours. However, the charging time will depend on the quality of the battery and the charger itself. When it comes to charging fans via solar power, the average time it will take is around 4 to 5 hours, depending on the energy source.
Wrapping Up
To wrap it all up, with the weather turning hotter, it is time to start looking into rechargeable fans as the best solution for balancing the temperature. Our list of best rechargeable fans contains a variety of units that differ in prices, structures, and sizes. All you have to do is read through the features and descriptions to find the best quality fan that suits your needs.
Do not forget to consider the important factors before you make a purchase, including the size of the blades, frame, RPM number, as well as the number of speed settings on the fan. For best results, look for fans with multiple oscillating modes and tilt features.