10 Best Liquid Detergents in India (2020) for Washing Machines
Liquid detergents are not a brand new innovation on the market. They've been here for quite a while as one of best alternatives for powder detergents. Lately, brands are going all in with liquid detergent marketing, portraying this type as the best washing machine solution. Now the question comes, which is the best liquid detergent in India?
There are plenty of options you can choose from on the market, from popular washing detergent brands to the less popular variants. However, you have to be careful when selecting a detergent so you don't end up with the wrong washing solution in your hands. Make sure the detergent you choose is suitable for your type of washing machine (front or top load).
Read through our guide to find some of the best liquid detergents for washing machines as well as answers to the most frequently asked questions about this topic.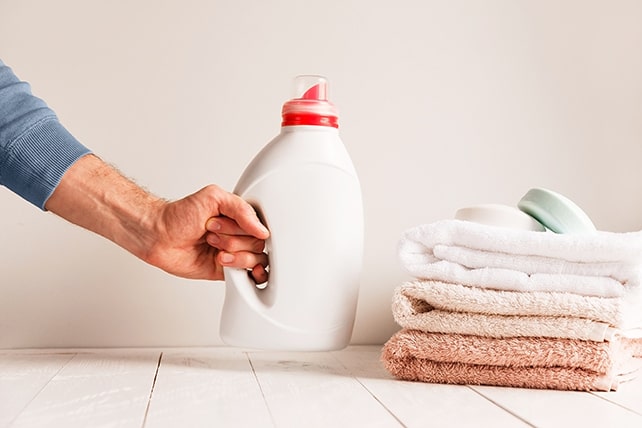 Why Are Liquid Detergents So Special?
Essentially, liquid detergents are designed to do the same thing as powder detergents – clean stubborn stains. However, the liquid and powder detergents differ in several aspects, which possibly makes them a better alternative. For starters, liquid detergents are easier to use and dose thanks to the innovative cap designs, which double as a measuring cup.
These detergents are packed in ergonomically designed bottles, so they are easier to transport and pour into the washing machine. Moreover, liquid detergents can dissolve in water more efficiently and they won't leave any residue on clothing. High quality liquid detergent solutions will remove tough stains even in washing cycles with small amounts of water.
Besides, they won't harden over time like powder detergents do so you don't have to worry about chunks of powder clogging up your machine. Overall, liquid detergents offer great benefits and, even though they are pricier than the powder alternative, they do serve as a very efficient cleaning solution.
Here is the list of Best Liquid Detergents in India
Surf Excel Matic Top Load Liquid Detergent – 1.02L
The Surf Excel Matic top load detergent dissolves easily and leaves a superior fragrance on the clothes after each wash. It is carefully designed to remove tough stains in large amounts of water, which makes it suitable for top load machines. A single cap of this liquid detergent (60ml) is enough to wash a regular load of 10 to 15 clothing items. If you're washing a load of heavily soiled garments, use one and a half cups, that is 90mls.
The Surf Excel Matic detergent will leave your laundry fresh and clean after each wash. Its seven layer penetration formula goes deep inside the fabric to efficiently remove even the toughest stains. This liquid detergent is guaranteed to remove any stubborn stains without harming your clothes or causing color loss.
Ariel Matic Liquid Detergent 1 Litre
The Ariel liquid detergent for automatic washing machines is efficient at removing common stains such as tea, coffee, ink, dirt, or food stains. While removing the tough particles of dirt, Ariel remains gentle on the clothes and protects the color from fading or mixing with other garments. This detergent dissolves very quickly, so you won't have to worry about any leftovers after the wash.
In fact, the Ariel Matic liquid detergent is so soft on the clothes that it is suitable for kid's clothing. It can also be used to pretreat the clothes in case of very hard stains such as mud and clay. It is really important to mention that a single liter of this liquid detergent is equally as efficient as one kilogram of powder detergent. The innovative cap design on the Ariel detergent will ensure no spillage and make pouring quick and easy.
Godrej Ezee Liquid Detergent – Winterwear, Chiffon & Silk
The Godrej Ezee liquid detergent features a special pH neutral formula with "no soda" or harmful chemicals. As you might have guessed by its name 'Ezee', this gentle laundry detergent is very easy on the clothes. It is designed for soft and fluffy clothing items made of silks, chiffon, and wool. That's why the Godrej Ezee is one of the most popular liquid detergents used during winter to treat winter wear of all sorts.
The detergent comes with an easy to use a measuring cup and an ergonomically designed bottle. It is safe to use for kids' clothing as it doesn't leave any residue that could irritate the skin. Moreover, this detergent is very mild and won't damage the color of your clothing.
Bosch Detergent for Front Load Washing Machine ( 1 Liter)
The Bosch detergent is one of the best liquid detergents in India because of its fine formula for removing stains without producing high suds. This detergent doesn't create a lot of foam, which makes it the perfect option for front load machines. Its fine quality formula ensures top performance even with the toughest stains.
Moreover, the Bosch detergent is gentle on the clothes and leaves a pleasant fragrance after each washing cycle. It will protect the color from fading and keep the fabrics from fuzzing up after multiple washes. The Bosch detergent formula was tested and approved in Germany to ensure the finest quality for the global market.
Love & Care Fine Cottons Expert Care Wash Liquid Detergent
The Love & Care liquid detergent is made to protect clothing items from the harmful effects of high concentration detergents. This liquid washing solution is tailor made for a variety of garments that need extra care and protection. Thus, it is suitable for popular Indian clothing that includes a variety of fabric types and embroidery.
This Love & Care product removes stains without damaging cotton materials or colors. Its anti-color fading and anti-pilling technology will protect the fibers from stretching or shrinking while washing. You can wash your clothes as many times as you want with the Love & Care liquid detergent, and they'll always look as good as new.
IFB Essentials Fluff Front Load Fabric Detergent – 1 L
The IFB Essentials formula is also one of the best liquid detergents in India for front load machines. This low foam detergent is efficient at cleaning the fabric to the core without damaging it or causing color loss. It also leaves a delightful fragrance that will last all day long after washing.
With the IFB Essentials Fluff formula, you won't have to worry about worn out and shrunk clothes after washing. This detergent keeps all types of clothing, garments soft and bright, just like they were when you first bought them. The formula dissolves well in water so it won't leave any traces or residue marks.
Safewash Liquid Detergent by Wipro, 1kg
Next up is the Safewash liquid detergent by Wipro. This was designed for thick winter wear type of garments. It features an enriched cleaning formula with germ-free protection. Each cup of the Safewash detergent will leave your clothes smelling fresh and delightful.
What's great about this liquid detergent is that it can be used both as a hand wash clothing detergent and as a machine washing solution. The pH neutral formula won't damage the thick wool sweaters and winter clothing items either, so you won't have to worry about color-loss.
Genteel Liquid Detergent – Pack of 2
As the name suggests, the Genteel liquid detergent is extremely gentle on the clothes thanks to its "no soda" formula. This detergent comes in a pack of two, and it was designed for everyday clothes. As an all-purpose liquid detergent, it can be used as a fabric conditioner and a stain remover.
Moreover, the detergent comes with a simple cup that makes measuring easier. The liquid cleans the fabrics from within and doesn't leave any effects on the color of the clothing. Besides, the detergent is very easy to handle, thanks to the ergonomically designed plastic bottle it comes in.
Best Baby Laundry Liquid Detergents
Mamaearth's Plant Based Baby Laundry Liquid Detergent
Detergents used for baby clothing should be milder and easier on the clothes to prevent residue and skin irritation. This Mamaearth's product is one of the best liquid detergents in India and a great option for baby clothes thanks to its plant based formula that contains Neem extracts and bio-enzymes. While being gentle on the clothes, this detergent can efficiently remove food and milk stains.
It leaves a fresh and mild fragrance that won't bother the baby, and its anti-bacterial formula will make the clothes safer to wear. Besides, the solution doesn't contain any harsh chemicals, and it was dermatologically tested to ensure there won't be any skin irritations or similar concerns.
Mee Mee Mild Baby Liquid Laundry Detergent (1.5 L – Bottle)
Lastly, the second liquid detergent for baby clothes you should consider is the Mee Mee mild baby laundry detergent. Even though its solution is milder than regular detergent, it can powerfully remove stains and clean the fabric to the core. This detergent formula is fully anti-bacterial and completely gentle on the clothes.
Most importantly, this detergent will fully dissolve in water and won't leave any residue which may irritate the baby's skin. The solution was carefully made without any chemicals or artificial coloring. It is completely safe and biodegradable, just like a baby laundry detergent should be!
Best Liquid Detergent Brands in India
The best liquid detergents come from the best detergent brands on the market. Here are the top four brands that we find most efficient:
Surfexcel
Surfexcel is one of India's most popular laundry detergent brands owned by Unilever. Formed way back in 1996, this brand is known for its SurfExcel Matic technology that washes clothes flawlessly in automatic washing machines.
Ariel
Ariel makes the best liquid detergent for washing machines in India and the world. Their market stretches over the entire globe as it is one of the most popular laundry detergent manufacturers in multiple continents. As a leader of detergent innovation, Ariel provides efficient and high quality liquid detergents for all types of clothes.
Godrej
A very well known brand in India – Godrej, designs its own liquid detergents. The most popular one from their group is 'Ezee' that works grea on winter clothes. The same company also provides a variety of related household products including soaps, detergents, and even hair colors.
Love & Care
Lastly, Love & Care is a unique detergent brand that keeps the Indian consumer in mind with all its products. The Love & Care liquid detergents are designed to protect the diversity of delicate fabric used in the clothing of all sorts. If you have a lot of sensitive wool and cotton clothing items, then a Love & Care detergent would be a great fit for your household.
FAQ's
These are some of the most frequently asked questions about this topic:
How are the top load and front load liquid detergents different?
Liquid detergents designed for top load washing machines create more foam and bubbles, and they dissolve slower since they are meant to be used in larger machines with larger amounts of water. Front load liquid detergents, on the other hand, have a lower concentration and produce less foam in order to allow the front load machine to rinse the clothes with less amount of water properly.
Can I use a top load liquid detergent in front load or vise versa?
It actually depends on the liquid detergent selected. As some of the products like the Ariel matic, Godrej ezee that we mentioned in our list are designed in a way to work for both top load and front load washing machines.
However, most of the liquid detergents that are specified for top load or front load machine needs to used as specified on the bottle, If you use the liquid that is specified for a top load it may create too much foam in the front load so that the machine won't be able to wash out properly.
Can I put liquid detergent directly on clothes?
Yes, liquid detergent can be used to pretreat stains. If you have any clothing with hard stains, you can add some liquid detergent onto the stain prior to putting the item of clothing in the washing machine. That way, the stain will be removed more efficiently. Make sure to add the regular amount for the washing cycle even if you've already put some on the stain.