12 Best Trolley Bags in India (2020)
No one wants to travel with a busted trolley bag! To make sure your luggage bag never fails you again, you should choose one of the best trolley bags in India and enjoy your next vacation without stress!
Whether you're traveling for work or leisure, you deserve to start your trip in a good mood without having to worry about your luggage.
This list of best trolley bags in 2020 can bring you peace of mind by keeping your luggage safe wherever you are. By choosing the right suitcase to accompany you on the trip, you will be able to store all your clothing and essentials in a safe place.
We've found the 12 best trolley bags for you to choose from!
Once you go through the list, don't forget to check out the following section to learn more about the features and best trolley bag brands you should be looking for.
The list of pros and cons for each product will help you narrow down your choices and bring home one of the best trolley bags in India.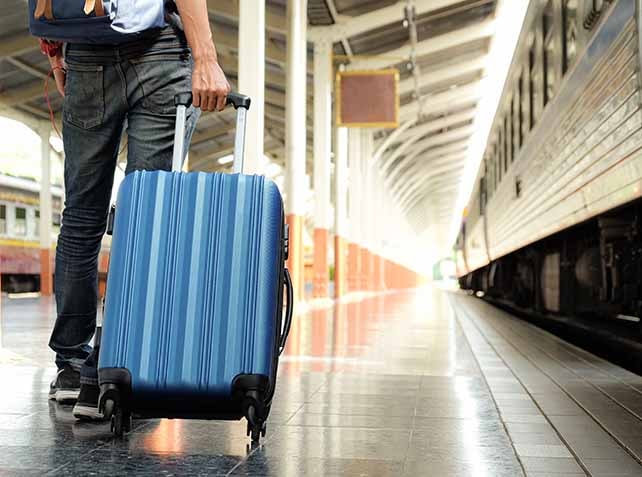 Here are the Top 12 Best Trolley Bags in India
1. American Tourister Cruze ABS Black Hardsided Suitcase
The American Tourister Cruze trolley bag is a large suitcase with a capacity of 84 liters and a great black hard-sided shell (outer covering). The sturdy structure of this suitcase will keep your belongings safe on your trips and weekend getaways.
Coming to the dimensions this trolley bag measures about 48cms in length, 30 cms in width and 68 cms in height (48L x 30W x 68H) and is lightweight.
Most importantly, it is very sturdy and the outer material is water resistant as well as resistant to wear that could damage the case over time making it one of the best trolley bags in india. The suitcase comes with zipper closure and also features a durable number lock system to protect your belongings.
The suitcase sits on four sturdy wheels that roll smoothly on any terrain. Despite the ergonomic design, this trolley bag has no laptop compartment.
However, it does have two padded handles on the top and on the side for easier maneuvering in a rush. If you'd like to pack your items more neatly, we suggest getting an additional organizer.
Lastly, the top retractable handle on this bag makes it convenient to drag it along, especially since it is made of very lightweight materials. It comes with a 3 years warranty.
Pros:
Hard-sided shell
Water and wear resistant
Features a number lock system
Ergonomic design
Padded handles
Lightweight materials
Cons:
2. Safari Polyester 65 cms Blue Softsided Check-in Luggage
This Safari suitcase is slightly smaller than the American Tourister Cruze at only 65 cm in size. However, the bag features a greater capacity of about 90 liters and a soft casing that can be expanded to fit extra items.
Therefore, if you need to pack a few extra shirts or pairs of shoes, you will get plenty of room by expanding this Safari soft-sided luggage bag.
This trolley bag also features a good security system based on a number lock. A simple numeric combination will keep your luggage locked and protected from any intruders.
The soft casing features a unique design with a colorful pattern, paired with small wheels that glide quite smoothly.
What's great about this Safari trolley bag is that it features an internal garment section and two different compartments. If you're going on a longer trip, these compartments will come in handy to keep your items organized. Overall, it is quite spacious, and lightweight once expanded.
This model from the safari comes in two different colors (blue and red) and is also available in two different sizes one with 65cms -90 liters capacity and other with 79 cms- 126 liters capacity to choose from as per your requirements.
Pros:
Expandable casing
4 smooth wheels
Durable lock system
Two separate compartments
Features a garment section inside
Lightweight
5 year warranty
Cons:
Handle quality is not up to the mark
3. Nasher Miles Lombard Hard-Sided Polycarbonate Trolley Bag
Next up in the list of best trolley bags in India is the Nasher Miles Lombard suitcase that consists of a hard-sided polycarbonate shell with a sporty zig-zag design.
The unique pattern design makes the outer shell of the trolley bag scratch resistant, which will come in handy if your luggage gets pushed around at airports and bus stations.
This is a 40-liter capacity, small 55 centimeters trolley bag that is suitable for short trips or extra carry-on storage space.
Your clothing and other essentials can fit neatly in the spacious main compartment of the suitcase. Inside the chamber, you will find straps and a zippered divider that will help you keep your items neatly organized.
It has both a top and a side pickup handle for easier maneuvering. Most importantly, it is made of lightweight materials so that it won't add a lot of weight to your overall luggage. The 360 degree spinner wheels operate quietly in any direction.
This trolley bag is available in 5 different colours – black, blue, grey, maroon, and silver.
Pros:
Two year warranty included
Scratch resistant design
Spacious main compartment
Zippered divider inside
Comfortable handles
Lightweight
Cons:
4. AmazonBasics 55cm Hardsided Cabin Trolley
This AmazonBasics black hard-sided trolley bag is an excellent choice for those who travel frequently. With a diameter of 55 cm, 39L capacity and plenty of space to fit the essentials for weekend getaways.
If you need extra space, the sides of the trolley bag can be expanded for up to 15%. This will give you enough room to fit a few extra items for each trip.
The hard shell of this bag comes with a scratch resistant finish and is well designed to protect your stored items.
It also comes with a handy divider and a zippered pocket for extra storage space and better organization. However, it does not comes with the lock feature.
The telescoping handle can be expanded to fit your hand comfortably as you drag the suitcase across the airport. The smooth rolling wheels will make this a much more enjoyable experience than you'd expect.
This Amazon basics trolley bag comes with a 3-year limited warranty and is also available in colors like burnt orange, light blue and navy blue to opt as per the interest.
Pros:
Has a zippered pocket and a divider
Telescoping handle
Smooth rolling wheels
Expandable for up to 15%
Great for short trips and vacations
Cons:
This trolley bag doesn't feature a lock system
5. Mi Polycarbonate 24″ (61cms) Grey, Hardsided Check-in Luggage (XDLGX-02)
The Mi hard-sided check-in luggage bag is greatly designed to reduce wear and tear, thanks to its polycarbonate hardshell made of three separate layers. This trolley bag has a storage capacity of 64 liters, which is more than enough to pack all your essentials.
It comes with a TSA lock for advanced security, which makes it a great option for travelers who like to know their belongings are locked at all times.
Moreover, this trolley bag features two spacious compartments and a handle that can be adjusted to four different heights. Therefore, the length of the handle can be customized to fit your specific height.
One of the unique features of this trolley bag is its shock-absorbing and noise minimizing wheels that can even do well on most surfaces.
The bag also comes with a one year manufacturer warranty in case you come across any issues. The only concern regarding this bag is the sturdiness of the frame because it may bend under heavy pressure. Other than that, it is a pretty decent option to consider.
Pros:
Wear resistant shell
One year warranty included
Three layers of polycarbonate
Shock absorbent wheels
Two storage compartments
TSA lock included
Cons:
Although this model comes with scratch resistant honeycomb surface, it is not up to the mark.
6. AmazonBasics Set of 3 (53 cm + 64 cm + 74 cm) Softsided Trolley bags
AmazonBasics already offers some of the best trolley bags in India, including this set of three navy blue trolley bags.
This is also the only set of three suitcases on our list. It features three soft-sided trolley bags of different sizes and capacities, including 31 L, 50 L, and 77L.
This set will satisfy your packing needs for all types of trips, regardless of whether you're going on a short weekend or a long two-week vacation.
Each AmazonBasics trolley bag comes with three zippered compartments for extra storage, which is an added benefit.
Thanks to the soft sides, these bags can be expanded for up to 25% to provide additional storage space. Each featuring a telescoping handle and a set of four 360 degree spinner wheels.
It seems like these trolley bags have all the right features except one detail – there is no lock system. However, the durable zipper and expandable storage space can make up for this flaw. Besides, you can always add an extra lock if necessary.
This product is also available in black color.
Pros:
Soft-sided and expandable
Various sizes and capacities
Fabric lining protects trolleys from scratches
Each suitcase features an organizer with three zippered compartments
Strong zippers
Comfortable telescopic handle
Cons:
7. Safari Thorium Sharp Antiscratch 66 Cms Polycarbonate Check-In Hard Suitcase
Next up is the Safari Thorium suitcase made of anti-scratch polycarbonate material. It features a hard shell resistant to wear and tear caused by throwing the suitcase around with other luggage.
This particular trolley bag has a capacity of 81.9 liters, which is more than enough to pack most of your belongings for the next trip.
The suitcase comes with a long warranty period of five years to reassure you that you're making a safe purchase.
Besides good quality and an elegant style, it offers maximum packing space and a fixed lock for additional security. Overall, the trolley is easy to move around and pack with maximum efficiency.
Pros:
Large storage capacity
Wear resistant
5 year warranty included
Includes a number lock
Elegant style
Good quality materials
Cons:
The shell may sink under heavier load
8. Carlton Polycarbonate 68 cms Graphite Hardsided Suitcases
Carlton is known as one of the best trolley bag brands out there and for a good reason! Their 68 cm polycarbonate trolley bag features a graphite design on a hard shell.
With the capacity of 72 liters, this suitcase is an excellent choice for travelers who need to pack some extra items. There's plenty of space even once you organize most of your belongings accordingly.
Moreover, it features a durable TSA lock and four smooth wheels for seamless mobility.
It comes with a 5-year warranty just like the several other brands on the list and this carlton trolley bag is much sturdier and more durable. It won't bend or break even under good amounts of pressure.
The graphite design on the outer shell contributes to scratch resistance and makes this suitcase one of the best choices to keep in mind
Pros:
TSA lock included
5 year warranty
Very sturdy and durable
Scratch resistant
Plenty of storage space
Four smooth wheels – great mobility
Cons:
A bit costly. However, it worths the price for its quality.
9. Kamiliant by American Tourister Kam Oromo Polyester 69 cms Black Softsided Check-in Luggage
Next up is the Kamiliant suitcase by American Tourister Kam Oromhis. This particular bag features a softshell, but it is much more durable than you would expect.
Trolley bags with soft shells are usually not the most durable choice out there. However, this particular model is made of extremely durable and wear resistant materials suitable for harsh conditions or lengthy adventures.
This trolley bag features the capacity of 93 liters, which makes it one of the largest on our list thus far.
Even though it is wear resistant, this trolley bag is not waterproof (keep this in mind to avoid any unwanted accidents). It comes with a three year warranty and, since it only has one storage compartment, you might need to get an organizer to keep your belongings neat and tidy.
Let's not forget that this suitcase features a numeric lock system and it can be expanded if extra space is needed.
Pros:
Durable and wear resistant
Includes a number lock
Can be expanded
Meets check-in size requirement for most airlines
Three year warranty included
Sturdy wheels
Cons:
It's not Laptop compatible
10. Aristocrat Juke Polycarbonate 75 cms Grey Hard Sided Suitcase
The Aristocrat Juke polycarbonate suitcase has a capacity of 88 liters, which makes it one of the largest bags on our list.
This bag features a simple number lock for security, much like the majority of best trolley bags in our list. What makes it stand out among similar bags is the five year warranty, which you can use in case any unexpected malfunctions take place.
Moreover, the suitcase features a textured surface that provides a scratch resistant surface.
It also comes with a durable and ergonomically designed handle on top where you can easily carry it.
Overall, the bag is both modern and functional, allowing you to pack the right amount of items for your upcoming getaways. This also comes with 360 degree spinning wheels, a retractable handle, and a convenient organizer.
Pros:
Good locking system
Scratch resistant surface
Modern and functional
High quality wheels
Five year warranty
Cons:
Quality of the material is not up to the mark.
Not wear resistant
11. Skybags Rubik Polyester 68 Cms Blue Softsided Check-in Luggage
The Skybags Rubik polyester luggage trolley bag comes in the size of 68cm that is about 66 liters of storage capacity.
This is a soft-sided trolley bag, which means it can easily be expanded so you can fit in a few extra items or pieces of clothing. This trolley bag features a five year warranty and a number lock for extra safety on the go.
Thanks to 360-degree spinning wheels, it provides effortless mobility on different terrains. If you don't feel like rolling the suitcase on its wheels, you can use the side handle to pick up and carry it along.
It is important to mention that, even though the zipper closure should additionally secure your bag, it is not up to the mark.
This bag is also available in red color to choose from.
Pros:
Five year warranty
Number lock included
Expandable sides
Convenient push button handle
Corner guards protect the suitcase against wear
lightweight
Cons:
Build quality is not up to the mark
12. Delsey Misam ABS 66 Cm 4 Wheels Black Medium Hard Suitcase
Lastly, we will end our list of best trolley bags in India with the Delsey Misam suitcase featuring a capacity of 81.5 liters.
The shell of this trolley bag represents a combination of medium and hard materials. This adds to the overall durability that makes this bag the right choice for all weather conditions, regardless of when you decide to travel.
The suitcase also has a TSA lock, which is a very popular feature to keep in mind.
When it comes to storage space, the Delsey Misam medium to hard suitcase has a decent storage compartment with organizers. It is simple yet very practical and easy to maneuver.
Its exceptional spinning wheels can rotate in any direction to follow you during a holiday rush or a busy day at the airport.
Lastly, the suitcase comes with a manufacturer's warranty of three years. Thus, if you come across any unexpected issues, you can contact the manufacturer to fix the problem.
Pros:
Good storage capacity
TSA lock included
Comes with a three-year warranty
Simple yet highly practical
Convenient for a longer trip – expand for storage
Cons:
Things to Consider When Purchasing the Best Trolley Bag
Are you not sure to choose the best trolley bag?
We've pointed out some of the most important features you should pay attention to when purchasing a trolley bag in 2020.
Naturally, which Trolley bag fits you best depends on what type of traveler you are. If you mostly travel for business and take short trips frequently, you should look for smaller and more compact ones.
However, if you're someone who likes to travel for fun and experience new things on longer journeys, consider getting a larger one to fit all your belongings.
While the size of the trolley bag is quite a subjective matter, there are some general features that you should look for in every product. For example, make sure you choose the trolley bag equipped with a lock system.
Even if you don't carry any precious items, it is good to have a lock-in place to secure your belongings.
Another important point to look at is the bag's shell. You can either opt for a hard shell trolley bag or a soft-sided one.
Keep in mind that hard shell ones are often more durable, even though they can get scratched a lot easier. The positive side of softer shells is that they can often be expanded to provide additional storage space in the trolley bag.
Many luggage bags come with manufacturer's warranties ranging from one to five years. If you're putting trust into quality, it won't hurt to look for good warranty offers to make sure your item will be secured.
Lastly, make sure your suitcase has durable yet smooth wheels that can roll in any direction. Good wheels will save you the hassle of transporting the luggage on busy airports and bus stations.
Another feature that will make this process easier and more enjoyable is the retractable handle. Any good trolley bag should have a retractable handle that allows you to adjust its height according to yours.
Have a look at the Best Trolley Bag Brands in India
Don't forget to look for the best trolley bag brands as it is well known that suitcases made by popular manufacturers offer a guarantee in quality and endurance.
Some of the popular trolley bag brands available in the Indian market are
American Tourister
Safari
Sky bags
Nasher Miler
Aristocrat
Carlton
That's why you don't have to doubt about the trolley bags that we listed above. As they are all made by reputable and respected manufacturers that have been present on the market for decades.
Let's Wrap it All Up!
We're glad you stayed all the way to the end of our brief trolley bag buying guide. We've put in the effort to present the best trolley bags in India that are currently available on the market.
It is your turn to go through the article once again and find the best one that provides all the features that you are expecting.
We'd happy if you could leave a comment below and let us know which trolley bag you decided to get for your next trip!