12 Best Hand Blenders in India for Home Use (2020)
Imagine being in the mood for some delicious chicken curry or tandoori handi, but feeling too exhausted and lazy to go through the tiresome process of crushing and blending the required spices in a mortar and pestle. No, don't cancel your plans just now, because the best hand blenders in India are right here to help you out!
Hand blenders, which are sometimes referred to as immersion or stick blenders, are amazing kitchen appliances that speed up your cooking process by pureeing or blending the ingredients within your cooking bowl or pots and pans.
In this way, you don't have to do arm and hand workout every time you're planning to satisfy your desi taste buds with some delicious Indian food. Not only this, you can now prepare a wide variety of desi, continental, and European cuisines like an amazing chef by using hand blenders that would help achieve the perfect blend of flavors.
Hand Blender and Hand Mixer: Same or Different?
People often consider Hand Blenders to be the same thing as a Hand Mixer, and unfortunately, it is becoming a common misconception. Despite both of these being very useful kitchen appliances, they have different roles to perform according to their designing and utility.
Hand blenders have a long cylindrical structure and contain various steel blades that allow them to be immersed in deep bowls and blend and puree many different ingredients into liquidized or powdered form.
On the other hand, Hand Mixers consist of beaters so they can be used in combining ingredients like flour and sugar to make doughs and cake batters.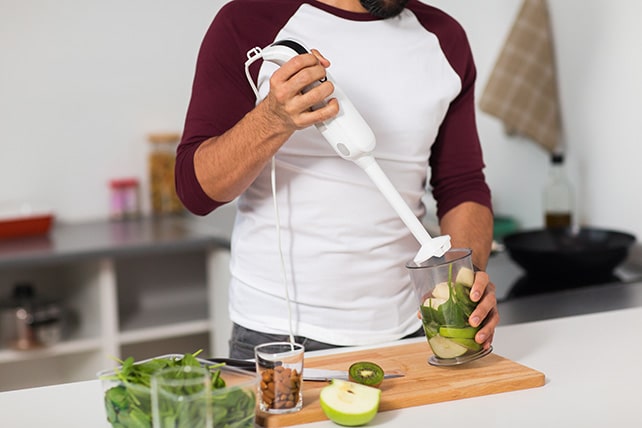 What you can do using a Hand Blender?
Even though hand blenders have flexible and subjective utility and can be used for a variety of purposes, but the following are some of the important tasks in which using a hand blender would be beneficial for you:
Blending fruits and vegetables to make smoothies and milkshakes
Blending flour and eggs to make delicious pancakes or waffles for breakfast
Pureeing hot soup within the cooking pot if you have a stainless steel hand blender
Making whipped cream in your home for the perfect desserts and cake icings
Making the healthiest and yummiest home-made mayonnaise with a few ingredients and some easy blending
Beating eggs to a fluffy texture for an omelet, cakes, cookies, and much more
Mixing various ingredients to create your unique salad dressings that compliment your taste.
Buying a New Hand Blender? Have a look at these Points and Features before you Buy
Selecting the best hand blender according to your budget and requirement can be quite strenuous, especially when there is a wide variety of available options online. To make things easier, we have shortlisted criteria so you can judge the available products and pick the best blender in India for yourself.
Power Consumption
The best hand blender for you would be one that runs smoothly while requiring less power input; in other words, the blender should be highly energy-efficient, so it does not increase your electricity bill.
Material
The material of the blade and body of blender is critical to consider. Since the blades have to cut through different types of things, they should be sharp and made of stainless steel. The body should also be of heat-resistant yet lightweight material.
Speed Control
Controlling the speed of hand blender is crucial because you need different speeds of blending different ingredients. Hence, you should buy the blender with easily-accessible dial or buttons to control the blending speed mid-way.
Design
The outlook of the hand blender you are buying is important because it determines its workability. The blender should be light to carry, easy to hold, and should be less noisy and vibrating so you can hold it more firmly.
Motor
Blenders with many different motor sizes are available in the market, so select the motor size according to your requirements. If you make soups and purees, a 150-watt motor is good to go. For bigger tasks like crushing ice, buy a blender with a 500-watt motor.
Warranty
Warranty is important while buying blender because it assures the quality and replacement if flawed. In India, most blenders come with a 1-year warranty, but some of the best hand blenders have a 2 to 3-year warranty.
Brand
Buying hand blender of famous brands is useful because they are well-reputed for producing high-quality kitchen appliances and guarantee long-lastingness and efficiency. The best hand blenders in India, 2020 are usually from brands like Braun, Bosch, and Morphy Richards.
Attachments
A normal blender usually has a blade to blend and mix food ingredients. However, you should look for blenders that come with additional attachments like chopping whisk and beater so you can use your blender for multiple tasks.
Anti-splash technology
Improper blending using hand blenders can turn your kitchen into a mess. To avoid making that mess, you can look for blenders with anti-splash blending technology that prevents spillages and splashes so that you can work neatly with cleanliness.
Locking System
Certain hand blenders in the market require you to hold the button to blend the things constantly. While some have a locking system that locks the button down and keeps blending without the button being pressed.
So, buy the blender that has a locking system because it makes it a lot easier to operate.
Other features
Along with the features mentioned above, certain elements like cord or cordless also make a hand blender more appropriate for you. Cordless blenders will be easier to operate because you don't have to worry about wires and sockets. Also, try to choose the blender that is easy to clean as it will be more convenient.
Here is the list of Best Hand Blenders In India for you
1. Braun Multiquick 5 Vario Hand Blender MQ 5035
Braun is one of the reputed brands in making the home appliances and is also well known to produce some of the best hand blenders.
This powerful hand blender by Braun is very useful for blending and pureeing day-to-day cooking ingredients. It has a special turbo speed function with 21 speed and an RPM of 13,500.
Despite being very strong, it is not noisy at all due to its silent DC motor. This blender contains a state-of-the-art metal shaft that is made using Power Bell metal shaft technology. Not only this, but the shaft is also detachable for you to conveniently place it, while also improving its storability.
The metal shaft is smartly designed with anti-splash technology ensuring a neat and clean cooking experience for you. This hand blender is convenient to operate because you can control the speed comfortably with one hand.
This hand blender also contains additional attachment parts like a stainless steel knife. Its stainless steel blades are ultra-hard and sharp such that they cut through everything easily. Apart from the functioning, its design is user-friendly too and has a soft grip, while its parts are also dishwasher safe. But a point to remember about this product is its power which is 750 watts so the electricity consumption can be high.
Pros
Turbo speed Function
Handy Speed Regulator
Anti-splash metal shaft
Low Noise
German Technology
Cons
2. Bosch Lifestyle MSM2650B 600-Watt Hand Blender
This amazing 600–watt hand blender has a pleasing look as well as it is convenient to use. Its most useful feature is the extra powerful motor which can perform heavy tasks of blending. This feature is aided by the creative blade design called Quattro Blade, which is extremely sharp and has four wings for blending and pureeing completely.
It also comes with a high-quality stainless steel blender foot that is detachable and makes it easy to keep on hold when not in use. To increase the functioning and workability of this blender, it comes with additional accessories, including a handy mini chopper as well as a stainless steel balloon whisk for whisking ingredients like yogurt or eggs.
It is also accompanied by a transparent calibrated mixing measuring jar to help you out in cooking and baking. Its user-friendly design is really helpful for easy holding and operating. It also contains anti-splash technology and a safety lockage so you can blend without any worries.
Finally, this hand blender comes with a 2-year warranty, which assures its good quality.
Pros
Innovative four-winged Quattro blade
Ergonomic design
Anti-splash metal shaft
Comes with a safety lockage
2 Year warranty
Cons
Built-up quality is not up to the mark.
3. Braun MQ100 DIP 450-Watt Hand Blender
This exclusive product by Braun is also one of the best hand blenders in India that comes with a powerful 450 Watt motor. It is made with patented power bell technology that helps in the fine blending of all types of hard and soft ingredients. Its compact and convenient design is very user-friendly and makes it easy to handling.
This hand blender also contains a special splash-control technology that ensures mess-free blending, so your cooking experience is clean and hustle-free. Furthermore, it is convenient to use because of the Single-handed Use function, which allows you to control the speed by a single touch of the hand.
This hand blender allows you to blend without irritating noises because it has a silent DC motor. It usually comes with an instruction manual and a 1-year warranty.
Pros
Fine blending
Powerful and Silent motor
Anti-splash
Soft grip and easy to handle
Made from a reputed brand
Cons
The only con is you may not get additional attachments
4. Morphy Richards HBCP 400-Watt Hand Blender
You can now blend your ingredients easily with this 400-watt hand blender that comes with a variety of other accessories, making it a complete multi-functioning package. The product comes with some decent accessories like a chopper, a measuring beaker for your convenience.
This product is convenient to use because of its 2-speed soft push buttons and a shaft-thus keeping it lightweight. Moreover, the product comes with a 2 year warranty. The drawback of this blender is that its plastic shaft will be less strong compared to blenders that have metallic shafts.
Pros
Lightweight and simple design
Comes with a chopper and a measuring beaker
2 Year warranty
Cons
Plastic shaft
Quality is not up to the mark
5. Boss E111 125-Watt Portable Hand Blender
This product is brought to you by Boss, which is one of the pioneers in the hand blender market of India. This product has 125-watt power and 2 variable speed settings for convenient use and comes with 12000 rpm.
It can effortlessly perform a variety of jobs due to its very sharp and powerful stainless steel blades. The blades can grind and blend small and large particles finely. The shaft of the blender is made of stainless steel and the body by ABS material which is quite durable.
Its motor is of great quality, and you have a 2-year warranty on the motor. The hand blender comes with two blades as well as a wall mounting stand to keep it when not in use. It also comes with a user manual for your convenience. Overall, the blender's power balancing nature and long-lasting durability give you your money's worth.
Pros
Simple design
Durable material
Price of the product
2 Year warranty on motor
Comes with a wall mounting stand
Cons
Not Anti-splash
125- watt may not be enough for all of your blending purposes.
6. Koryo Multipurpose 6-in-1 Hand Blender KHB9567 600 Watts
This amazing product from Koryo is one of the best hands blenders in India and is so special because of its multi-functional features and a list of attachments.
It is a 6 in 1 product that works primarily as a hand blender and comes with different attachments like stainless steel shafts, blade, 600ml chopper jar, 550ml multipurpose jar, beater and a strong storage tray that are useful for blending, whisking, chopping, grinding, and whipping.
The product works with higher stability and is easy to set up and operates well by its two-speed settings. Its Anti–splash design of the blades ensures that the blending goes smoothly.
It has a powerful 600watt motor, which is useful for faster blending and also comes with the speed control settings and a turbo Speed Switch.
Not only this, but this high-quality multi-functioning hand blender also comes with a 1-year warranty so you can complain in case of any quality concerns.
Pros
Comes with six accessories
Good quality
Anti-splash
Stylish design
Easy to operate
Turbo speed switch
Cons
7. Inalsa Hand Blender Robot INOX 1000
This powerful 1000W blender by Inalsa is one of the best hand blenders in India that serves for all kinds of blending and pureeing. It works as a multi-functioning processor because it is accompanied by a variety of accessories like a chopper, 600ml multi-functioning jar, and whisk.
Its blending wand is made of stainless steel and is detachable, which means that you can use it conveniently and wash it after use as well. It also has a dual-speed setting so that you can control the speed of hand blender according to your requirements. Its comfortable anti-slip exterior allows you to hold and carry the blender conveniently.
It also has a unique feature of power-indicator light that informs you about the progress of the blending process. Its stem is made of stainless steel. It also has anti-splash technology due to its unique blade-shield design. This hand blender comes with a 2-year warranty, which assures its good quality.
Pros
1000 W powerful motor
Comes with different accessories
Turbo function
2 Year warranty
Cons
8. Philips Daily Collection HL1655/00 250-Watt Hand Blender
This gorgeous and simple hand blender by Philips has a power of 250 watts and is connected using a 1.2 m cord. It is ergonomically designed to provide a better grip while blending.
Its unique feature is that it contains a stainless steel rust-proof metal rod and blades that allow you to blend hot or cold depending upon the ingredients you are using. Moreover, It is easy to operate because of its single trigger operation.
This electrical hand blender can run for up to 20 minutes to blend dishes at your required temperatures, whether you want them hot or cold. It is also accompanied by removable blades that can be used for whisking or whipping, thus increasing the functioning of the product.
In addition, this product has a warranty of 2 years and It is also easy to clean and comes with a wall bracket to store.
Pros
Simple design
Up to 20 minutes of blending time
It can be used for hot and cold dishes
2 Year warranty
1.2-meter Cord length
Cons
May shake and vibrate a lot while working
Quality is not up to the mark
9. Inalsa Hand Blender Robot 2.5PS 250-Watt
This strong and sturdy blender by Inalsa has a power of 250 watts, which makes it powerful enough for blending and grinding all types of ingredients together. Its brilliant feature is its efficiency in terms of power consumption because it can blend exceptionally well while consuming less power.
It also lets you cook in peace due to its low-noise DC motor. It has a stainless steel blade that is detachable so it can easily be cleaned and stored.
The lightweight body and its ergonomic design make it easy to handle. The sleek body design of this hand blender adds to its beauty.
Another amazing feature is its lock and press operation, which lets you blend multiple ingredients easily and quickly. This detachable design is user-friendly and has anti splash flow breakers on the foot area around the blades.
This blender comes with a loop, which makes it easy to store. Finally, This product comes with a 1-year warranty.
Pros
Highly economical
Low noise
Anti-splash
Simple design
Lightweight and easy to handle
Cons
Quality
Customer service issues
10. Black+Decker BXBL6002IN 600 Watt Powerful Hand Blender
This brilliant hand blender can perform multiple functions by using the stainless steel blades, which blends and purees ingredients efficiently. It is also convenient to clean because of the removable shaft. The power of this blender is 600watts and comes with an instruction manual.
This product is very durable and comes with a 2-year warranty. It has a sturdy plastic body, lightweight, and easy to carry. You can use it for multiple operations like chopping and whisking because it comes with extra chopper and whisks.
It is also accompanied by a multipurpose beaker and a wall rack for easy storage. To cater to your need for different speeds for different ingredients, this product has a variable speed control.
Pros
Variable speed options + turbo mode
Comes with attachments like 700ml Cup, chopper, whisk and a wall rack
Powerful motor
2- year warranty
Cons
Quality of chopper and jar are not up to the mark
11. Orpat HHB-100E 250-Watt Hand Blender
This hand blender from Orpat is also one of the best hand blenders considering the budget and functionality. It has a uniquely comfortable grip such that you can operate conveniently and its appearance is very sleek and elegant and sure it adds beauty to your kitchen.
It has a strong motor that works at 250-watt power, and hence it can easily blend, grind, and puree all sorts of large and hard ingredients into very fine particles. The detachable parts allow you to easily wash and store after use. It also has a safety switch so you can lock it for safety while blending.
Furthermore, it is wall-mountable, so you don't have to worry about it taking up much space. It also has a long power cord to increase its mobility and an unbreakable polycarbonate bowl. Its fixed multipurpose stainless steel blades make it strong and durable, and it also has a warranty of 1 year.
Pros
Economical
Wall mountable
Long power cord
1 Year warranty
Cons
No speed control settings
Cleaning can be a bit difficult
12. Prestige PHB 10.0 140-Watt Hand Blender with 2 Touch Speed Adjustable
This simple and handy blender has a motor power of 140 watts and has a user-friendly design with a simple one-touch operation, so you simply have to press a button for blending or mixing.
This product is also very safe to use and can function directly in plastic cups, mixing bowls, and large and small cooking pots. Furthermore, it is accompanied by a 500ml food grade jar. This one-unit hand blender also comes with a warranty for 1-year.
Pros
Ergonomically designed handle
One–touch button to operate
Stainless steel blending rod
1 Year warranty
Cons
140–watt hand blender (may not satisfy all your needs)
Frequently Asked Question's on Hand Blenders
What are some awesome blenders for smoothies?
Usually, most blenders do well for making smoothies; however, you can check our top picks of the best hand blenders in India as featured on our page.
Can I also use blender as a mixer?
Yes, blenders can perform some functions of a mixer very well. But the effectiveness and time differ a lot. Their additional advantage over mixer is that they have lids to prevent splashing, and are usually made of glass so that you can monitor the progress of blending.
How much time can I continuously run a blender?
It is generally advised not to run a blender for more than three consecutive minutes because the motor inside it produces heat, and the blender can get overheated and not work properly.
Can we crush ice cubes using a blender?
Blenders are a great way to crush ice. But you need to check if the motor of your blender is powerful enough to crush ice. If it is relatively weak, we would advise you to first keep the ice outside for 5 minutes before blending.
To Sum Up
Hand blenders are crucial kitchen appliances that ease out your cooking process by blending and pureeing ingredients for you. They can be compared to hand mixers, but they are more productive and perform a larger range of functions, including those of a mixer.
You can use them in cooking various savory and sweet dishes of national and international cuisines. This list of the best hand blenders in India with their descriptions can help you to decide the best product for you easily. If you have any queries regarding the hand blenders, feel free to comment below.