The 12 Best Coffee Makers in India 2020: Top Rated Products
There is nothing better in the morning than a fresh cup of coffee to start the day. If the coffee is a restaurant style one that can be easily prepared it's really fantastic and it's just a one step way as all you need to do is getting the best coffee machine in India to start making delicious hot beverages including espressos, cappuccinos, lattes, and classic drip coffee. We have prepared a detailed guide on how to choose the right machine for your coffee preferences, along with a list of the best coffee makers in India.
This guide will help you learn everything you need to know before buying a coffee machine, as well as present you some of the best products online. Our products list are merely suggestions and reflections of the products. The final decision of which coffee maker you choose is the best remains up to you. With that said, we will start off with the list of 12 best coffee machines in India.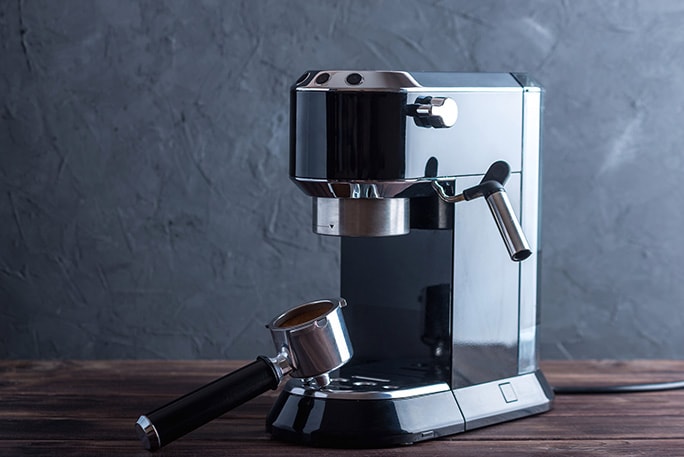 Here Comes the List of Best Coffee Maker Machines in India
1. Nespresso Inissia Coffee Machine
We will start off with the compact Nespresso Inissia coffee machine with a slim design that won't take up too much space in your kitchen. This machine uses fast Thermoblock heating to warm up water within 25 seconds. Moreover, it allows for easily adding the coffee capsules for a user friendly coffee making experience.
The removable container makes it easy to empty the machine and clean it after each use. Each Nespresso capsule contains the right amount of ground or freshly roasted coffee, depending on your preferences. All you have to do is keep the capsule, add water, and let the machine do the rest. The automatic quality control feature ensures the best results for any coffee of your choice.
Pros:
Innovative and compact design
Easy user friendly interface
Excellent coffee flavor and aroma
A variety of Nespresso capsules and flavors available
Cons:
So far, no cons for this one.
Bottom line: The Nespresso Inissia coffee maker is the perfect choice for coffee lovers who want to have plenty of variety in their coffee choices. At the same time, the machine is very fast and easy to use, which makes it a good option for users who do not have much time to prepare coffee.
2. DeLonghi EC685.R 1350-Watt Espresso Coffee Machine
The DeLonghi coffee machine makes traditional Italian Espresso and Cappuccino, thanks to an advanced built-in cappuccino system. This mechanism creates creamy and frothy coffee beverages at a restaurant level of quality. The machine features 15 bar pressure for perfect Espresso coffee, just like the one you would get in a coffee shop.
The patented thermoblock technology creates the right brewing temperature within 40 seconds and dispenses water equally over the coffee beans. This machine features a professional-grade aluminium filter holder for ground coffee or easy serving espresso capsules. Overall, the machine features a sleek design with great features such as flow stop, removable drip tray, and an automatic standby mode, all of which are covered by a one year warranty period.
Pros:
15 bar pressure
One year warranty
Removable drip tray with a cup warmer
Flow stop feature
Advanced cappuccino and espresso system
Cons:
Bottom line: This DeLonghi coffee maker provides restaurant-grade coffee quality with 15 bar pressure and a variety of other features. It is also very energy efficient thanks to the automatic standby mode that reduces energy consumption.
3. Black & Decker DCM600B 5-Cup Coffeemaker
Next up is the Black & Decker compact coffee maker, which is one of the best coffee makers in India for its price. It features a handy cord storage design and a compact body perfect for small spaces. The machine features a non-stick hot plate that is easy to clean and will keep your coffee hot for a long time.
This coffee maker is a great choice for those who are looking for a simple machine without too many complicated features. This one offers one touch operation so you can have your coffee ready quickly without too much work. This particular Black and Decker coffee maker model is perfect for the size.
Pros:
Compact design
Non-stick plate is easy to clean
Cup warmer keeps the coffee hot
Great coffee quality
One touch operation
Cons:
Bottom line: If you are looking for a simple coffee maker that will get the job done with a push of a button, then this Black & Decker model is a great option to consider. It makes great quality coffee and it is easy to clean and maintain.
4. Philips HD7447/20 920-1080 Coffee Maker
Next up is the Philips coffee maker, a powerful machine with a 1.2L capacity. As one of the best coffee makers in India, this Philips machine features an innovative design with light guides water level indicators and an LED power switch. The machine also offers the drip stop feature so you can interrupt the brewing process at any time to achieve a unique flavor or aroma.
Besides several dishwasher safe parts, this coffee maker comes with a detachable filter holder. Thanks to the premium filtration process, the machine provides optimal coffee flavor and freshness. The smart and compact design makes it a great choice for small kitchens without too much free space.
Pros:
Large 1.2L capacity
Innovative water level indicator
Drip stop feature for brewing customization
Dishwasher safe components for easier cleaning
Two years warranty
Cons:
A bit difficult to clean the filter.
Bottom Line: This Philips coffee maker provides optimal coffee aroma and flavor with a single push of a button. The smart LED lights add to the modern design of the machine. Most importantly, the machine can be cleaner easily, thanks to detachable and dishwasher safe components.
5. Nespresso Delonghi Lattissma Touch Automatic Coffee Machine
Next up is another DeLonghi coffee maker, this time the Nespresso Lattissima model with an automatic cappuccino system. This coffee machine can make delicious cappuccino and latte macchiato beverages, as well as hot milk, which you can use to customize your own coffee beverage. It features six different settings for different types of coffee drinks.
The settings include ristretto, espresso, long coffee, hot milk, cappuccino, and latte macchiato. The automatic power off feature will turn the machine off nine minutes after the last coffee is brewed. This helps lengthen the machine's lifespan as well as reduce energy consumption. Moreover, it is important to mention that this coffee maker has a high 19 bar pressure.
Pros:
Six different settings and drink types
Auto power off function
Pre-set functions are easy to use
19 bar pressure
Simple and intuitive interface
Cons:
Service center availability
Bottom line: The Nespresso DeLonghi Lattissima is one of the best coffee machines in India because of the variety of features and drink options it offers. Besides the great settings, the machine has a high 19 bar pressure for amazing restaurant-level coffee quality.
6. Morphy Richards Fresco 800-Watt 4-Cups Espresso Coffee Maker
The Morphy Richards Fresco is an 800 watt coffee maker with the capacity of four cups of coffee per brew. On top of coffee settings, this machine also offers a milk frothing option that allows you to create thick and creamy beverages. It features a removable drip tray for easier cleaning as well.
The glass carafe is made of premium quality heat resistant glass to ensure durability for years to come. This coffee maker also has a temperature indicator dial, and an overheat protection feature for additional safety. The turbo cappuccino nozzle will make your coffee look and taste the same way it does in premium coffee shops. Moreover, the coffee maker comes with a two cup filter for smooth and consistent coffee.
Pros:
Two cup coffee filter included
Covered by a two years long warranty
Turbo cappuccino nozzle
Overheat protection feature
Milk frothing option
Cons:
Steam from the machine is not strong enough.
Bottom line: As one of the best coffee maker machines in India, the Morphy Richards Fresco machine offers all the professional features you need for premium quality coffee in the comfort of your home.
7. Cafe JEI French Press Coffee
Next up is the JEI French press coffee maker with a four level filtration system and a 600ml capacity. This machine features high quality heat resistant borosilicate glass combined with stainless steel to form a sturdy and compact body. The product comes with a cleaning tool and a measuring spoon, along with double stainless steel screen filters for a pure brew.
This machine can be used to make fresh and authentic French coffee, tea, espresso, cold brew, latte, and milk frothing. As it is made of the finest material, the Cafe JEI French press coffee maker is expected to last for years, as long as you clean and maintain it regularly.
Pros:
Includes two bonus stainless steel filters
Comes with a cleaning tool and a measuring spoon
Provides a clean and pure brew for unique coffee flavor
Perfect for authentic French coffee, tea, espressos, lattes, and cold brews.
Features a 4 level filtration system
Cons:
Needs to be careful while washing as the beaker is not tight enough with the steel frame.
Bottom line: The JEI French press is a high quality coffee maker with sturdy glass and stainless steel body. This machine offers a variety of settings and features for the finest coffee flavor with plenty of aroma and variety.
8. Nescafé Dolce Gusto Jovia by De'Longhi – EDG250R Pod Coffee Machine
The Nescafe Dolce Gusto is a well known coffee machine with the Dolce Gusto capsule system. There are over 40 varieties of different Dolce Gusto coffee flavors, including both hot and cold beverages. The machine is so easy to use that all you need to do is put in a capsule of your choice, add water, and press the button.
At the end of each use, you can easily clean out the machine by removing the drip tray and washing the dishwasher safe parts. Moreover, the drip tray height is fully adjustable so you can fit cups and glasses of any size here. The machine offers high 15 bar pressure for great flavor and aroma with a simple 3-step operation mode.
Pros:
High pressure pump
Coffee shop quality
40 varieties of coffee flavors
Easy to use and clean
Adjustable drip tray height
Cons:
Usually supports Dolce Gusto capsules
Bottom Line: The Nescafe Dolce Gusto is one of the easiest coffee machines to use since all you have to do is pop in a Dolce Gusto capsule and you are good to go. This coffee maker provides plenty of options when it comes to brewing both hot and cold drinks.
9. Preethi Cafe Zest CM210 Drip Coffee Maker
The PreethiDrip Coffee Maker is another one of the best coffee makers in India featuring an anti-drip system. This coffee maker has a simple water level indicator and a heat sensitive thermal fuse, along with an ergonomically designed chrome handle. It heats up water quickly to ensure fast and efficient brewing each time.
The Preethi coffee maker is made of high grade heat resistant plastic with a microfine filter. It provides very accurate temperature control to ensure safety when in use. Overall, the product is covered by a one year warranty period in case of any issues or malfunctions.
Pros:
One year warranty included
Water level indicator for easier filling
Anti-drip system makes the machine easy to clean after use
Ergonomic chrome handle
Quick and efficient brewing
Cons:
Product build up is ok but not up to the mark.
Bottom line: The Preethi coffee maker is highly efficient at regulating temperature to ensure great brewing results and reduce safety risks while in use and Most importantly, the machine provides great coffee quality.
10. 3d Creations Home Kitchen Use Aluminum Coffee Moka Maker Pot
The 3D Creations coffee maker is a unique Italian Moka pot with a rough and minimalistic design. This coffee maker provides authentic Italian coffee quality on the stovetop. The modern design will make it fit in with contemporary kitchen interiors as well. Most importantly, this moka pot is made of stainless steel with an ergonomically designed and heat resistant plastic handle.
Besides high thermal resistance, this unique coffee maker features a simple moka pot style mechanism for making your favorite caffeine drinks with a special aroma. It is easy and enjoyable to use as it provides a traditional feeling and aroma. Making coffee in a moka pot will create a unique flavor effect that drip coffee makers cannot achieve.
Pros:
Traditional Italian coffee quality and flavor
Modern design for contemporary kitchens
Moka top style for unique coffee brewing
Durable stainless steel material
High thermal resistance for safety and a longer lifespan
Cons:
So far, no cons for this one.
Bottom line: Moka pots are known for unique coffee flavors and a different coffee brewing procedure. This particular moka pot by 3D Creations has a sturdy body with high thermal resistance that will allow you to make original Italian coffee on the stovetop.
11. Philips HD7431/20 760-Watt Coffee Maker
Next up is another Philips 760 watt coffee maker with a drip stop feature that allows you to interrupt the brewing process at any moment. This feature lets you customize the coffee making process to achieve the flavor you prefer. This particular coffee maker is very easy to clean and maintain since it has several dishwasher safe parts along with a detachable filter holder.
The unique aroma twister mechanism within the machine circulates the coffee for a special flavor and great aroma. The usual brewing time of this machine is around 10 minutes with the capacity of 0.6L. The water tank has a water level indicator to let you know when you need to add more water. On top of it all, this coffee maker is covered with a two years warranty so you can rest assured that it is a safe purchase.
Pros:
Two years warranty included
Smart and compact design
Unique aroma twister mechanism
Water level indicator
Easy to clean and maintain
Cons:
Built quality is ok but not up to the mark
Bottom line: Philips is generally known for high quality household appliances, including coffee makers such as this one. This coffee machine will last a long time and provide great coffee flavor with each brewing process.
12. Nescafé É Smart Coffee Maker and Travel Mug
Lastly, we have saved the best for last. The Nescafe E Smart coffee maker is by far the most innovative and futuristic coffee machine on our list. On top of its attractive design, this is the first coffee maker of this kind that can be connected to a smartphone app to control the brewing process. It can create delicious hot and cold beverages with a variety of recipes available at a single touch of a button.
Simply pair the coffee maker to the Nescafe E Connected Mug App via Bluetooth and you will be ready to go. The machine itself features great thermal insulation and heating, along with milk frothing and other settings that will make your coffee taste like it does in coffee shops. The machine comes with a 100% leak-proof mug, so you don't have to worry about coffee spilling around.
Pros:
Quick and silent operation
Smartphone connectivity for easier and more detailed control
Variety of beverage recipes available
Comes with a leak-proof mug
Attractive and futuristic design
Cons:
you may face difficulty connecting with the app.
Bottom line: The Nescafe E Smart is an advanced coffee maker and one of the best coffee machines in India because it can be connected to a smartphone where you can access hundreds of coffee recipes. Besides its smartphone connectivity, the machine offers good thermal insulation, silent operation, and overall amazing coffee flavor.
Most common Types of Coffee Maker Machines
Some of the most common types of coffee makers include the drip coffee maker, the French press, espresso machines, Moka Pots, and cold brew coffee makers. Each coffee maker creates a different selection of caffeinated beverages, including lighter espresso drinks and cold brews, along with strongly brewed hot coffee. Here is a brief overview about each type of machine and the process they use to make coffee:
Drip
Drip coffee makers, also known as drip brewers, are a type of coffee machine that use a unique water heating technique to brew coffee. After heating the water, the machine disperses it slowly over ground beans to create a fresh and aromatic flavour. Drip coffee makers are also very easy to use. All you need to do is fill the machine with water and coffee beans, add a filter, and it's ready to go.
French Press
French Press coffee machines brew coffee based on the piston-like principle. Most simply put, these machines force ground coffee through hot and boiling water, unlike drip coffee makers that evenly distribute the water over the beans. The result is a richer taste of coffee with a more powerful aroma.
Espresso machines
An Espresso coffee machine creates a thick and concentrated coffee beverage called an espresso. This type of machine uses high pressure to force boiling water through ground beans in a matter of seconds. This procedure creates a thicker beverage with a higher concentration of caffeine per serving. However, espresso coffee makers have limited features and they tend to be cheaper than drip makers or French presses.
Moka Pot
Moka Pot is a unique type of coffee maker that brews coffee directly on the stove. While the traditional Moka Pot coffee maker passes boiling water through ground beans while placed on a stovetop, there are also modernized electric versions of this machine. Either way, the Moka Pot uses boiling water pressurized by steam to create a unique effect on the ground coffee beans.
Cold Brew
Cold Brew coffee machines produce both hot and cold coffee beverages, which are usually soother and less bitter compared to other types of coffee. This machine processes ground beans in cold water, which causes them to lose most of the aromatic flavor, hence reducing the bitterness of the coffee. It is important to mention that the cold brew coffee concentration remains fresh longer than regular coffee.
How to Choose the Right Coffee Maker
Consider the following factors before making the purchase to ensure you get the best value for your money:
Identify the coffee machine type you want
Before you go out there and purchase a coffee maker, you must decide which type of machine you are looking for. At the beginning of this guide, we covered the basics of the most common coffee maker types, including the French press, the drip coffee maker, an espresso machine, moka pots, and cold brews. Each machine type creates a different type of coffee and has different sets of features. Think about what your favourite coffee type is and base the purchase on that decision.
Ease of Use
Naturally, you will want a coffee maker that is simple and easy to use. It is best to look for machines with intuitive designs that are easy to figure out. Some of the restaurant-grade coffee makers might require extra work around the brewing process, which is absolutely unnecessary for home use. Therefore, stick to simple machines that will provide delicious coffee in the morning.
Price
Pricing often determines the buyer's decision because everyone has a specific budget to work. In general, coffee makers are not the most expensive kitchen appliances. However, if you want restaurant-level coffee quality, you should be ready to pay a higher price for more value. Either way, our list of best coffee makers in India contains high quality products of all price ranges so you can easily find one that suits you best.
Wattage
The wattage of the coffee maker determines the power of the machine. An average coffee maker uses around 800 watts to produce four cups of coffee within 10 minutes. A less powerful machine with 300 to 600 watts can create up to two cups of coffee in this period of time, while a 1000 to 1500 watts machine can make 8 to 10 coffee cups. Anything around 600 to 800 watts should be sufficient for home use.
Energy Efficient
An average coffee maker uses around 730 kWh per year, which is not that much power compared to other kitchen appliances. Still, if you wish to save energy and cut the costs on your electricity bill, look for a more energy efficient appliance. For instance, coffee makers with automatic shut off features tend to spend less energy since they automatically turn off when not in use.
Capacity in a Single Go (No of Cups)
The capacity of a coffee maker is an important feature if more than one household member plans to use the appliance. If there are four people in the household expecting a hot cup of coffee in the morning, look for a coffee maker with sufficient capacity in a single go. Average coffee machines have the capacity of four coffee cups in a single run.
Brewing Time
Every coffee machine is different so the brewing time will depend on the type of machine and its mechanism. On average, it takes 6 to 7 minutes to brew four cups of coffee. If you are making more than four cups, you are looking at around 10 to 12 minutes of brewing. Most of the best coffee machines in India on the list are quick and time efficient, so you do not have to wait too long for your morning coffee.
Compatibility with Other Types of Coffee
If you are an experienced coffee lover, you probably have more than one type of favourite coffee. In that case, you need a versatile machine that is compatible with different coffee types. Look for coffee makers with a variety of settings that can make cappuccinos, espressos, and other types of hot or cold caffeine beverages.
Bar Pressure
The bar pressure determines the quality of the brewed coffee, especially in espresso machines. The industry standard is 9 bars. However, machines with up to 15 bars are said to brew the best quality espresso. The higher the number of bars, the higher is the pressure used to brew the coffee. Different pressure levels provide different results. Most restaurants use coffee makers with 9 to 15 bars.
Removable Drip Tray
A removable drip tray will save you time in the morning and make cleaning a lot easier. The worst thing is to drip coffee all around the place while brewing. A coffee machine with a removable drip tray makes it easy to clean any stains off the machine.
Coffee Strength Settings
The cheapest coffee makers on the market have one to two options at most. However, if you are looking for the best coffee maker in India, look for a machine with multiple settings, including the coffee strength feature. This will allow you to personalize the coffee making process and adjust the strength level to your liking.
Easy to Clean
The right coffee maker should be easy to clean after each use. As we already mentioned, a removable drip tray helps make cleaning faster and easier. Look for machines designed for easier cleaning that won't drip or splash the coffee around.
Advanced Features
If you have the extra money in your budget, consider opting for higher quality coffee makers with advanced features such as brew timers. One coffee maker on our list can be connected to a smartphone app via Bluetooth, where you can further customize the brewing process. Advanced features will definitely make coffee brewing more enjoyable.
Maintenance
Besides daily cleaning, coffee makers should be maintained regularly to lengthen their lifespan. The maintenance process includes changing filters and checking for any inconsistencies in the brewing process. If you notice the machine is interrupting the brewing or malfunctioning in any way, check the user manual to troubleshoot common issues.
Warranty
Last but not least, make sure the coffee maker you choose is covered by at least one year of warranty. This will save you money on repairs in case of the machine malfunctions during the first few months of use. However, if you opt for a higher quality coffee maker, you shouldn't be worried about it breaking down since higher quality also means a longer lifespan. Either way, it is good to have a backup warranty just in case.
Best Coffee Maker Brands Available In India
The quality of coffee makers often depends on the brand behind the product. An off-brand coffee machine is likely going to look and feel cheap, and the result of such a product will be poorly brewed coffee. By opting for a popular and trustworthy brand, you will be able to find the best coffee machine in India within a reasonable budget. Here are some of the most popular brands to look for:
Nespresso
Nescafe
Black & Decker
Philips
Morphy Richards
Wrapping Up
Finding the right coffee maker can seem challenging, given that there are so many options on the market. Our guide should help you narrow down your choices based on product quality and the type of coffee you prefer. With the right coffee machine, you will enjoy restaurant-level quality each morning. Make sure to take the most significant factors into consideration when making a purchase, including pressure characteristics, ease of use, and energy efficiency. With the right information provided in our guide, you will find the best coffee maker in India in no time!